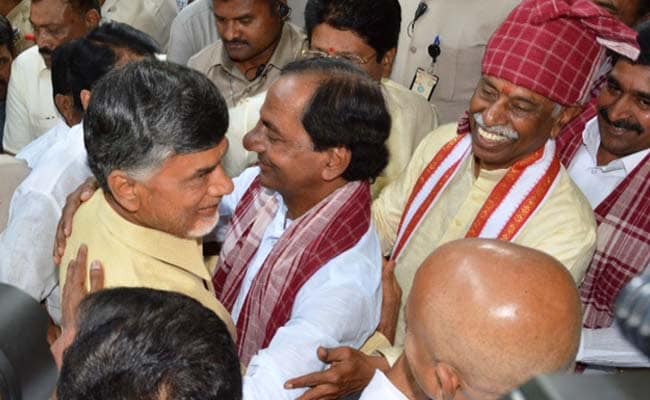 Hyderabad:
A bear hug between the chief ministers of Andhra Pradesh and Telangana recently suggested hostilities were being rested.
No more. Four state law-makers who belong to the party of Andhra Pradesh Chief Minister Chandrababu Naidu say they are keen on shifting to the party of Telangana Chief Minister K Chandrasekhar Rao or KCR.
The group that wants to politically relocate is based in Telangana. Mr Naidu's Telugu Desam Party, which serves as the opposition here but is in power across the border in Andhra Pradesh, has 15 members in the Telangana assembly which has a total of 119 representatives.
The rebels from Mr Naidu's party met this morning with KCR in Hyderabad. They said they want to shift allegiance because they aspire to help KCR with his mission to create 'Bangaru Telangana' (Golden Telangana). They said Mr Naidu, the leader of their current party, had wrongly insisted that Hyderabad be a shared capital between Andhra Pradesh and Telangana for the next 10 years. This and other policies of Mr Naidu, they alleged, are aimed at stemming the growth of their state, which was created in June after Andhra Pradesh was bifurcated.
One of them said Mr Naidu appears bent on promoting his son, Lokesh, as a party leader in Telangana, "as though there are no TDP leaders here".
Though they have not formally joined their rival, the rebels said they will support KCR in the assembly, voting in favour of the government on different issues.
In recent weeks, a series of law-makers from the two other opposition parties - the Congress and the YSR Congress - have also switched to KCR's party. They, along with the rebels from the TDP, risk being disqualified as members of the legislature because to vote against their own party, or to merge with another party, they need to whip up the support of two-thirds of the law-makers from their party.