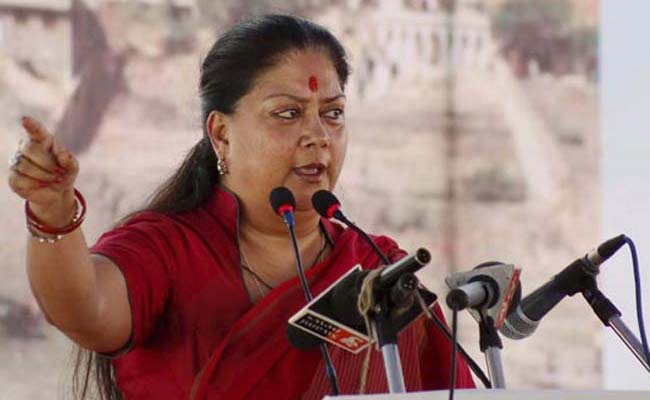 Jaipur:
Rajasthan Chief Minister Vasundhara Raje today asked senior police personnel to adopt a policy of "zero tolerance" against crime and criminals to provide fearless atmosphere in the state.
"SPs should adopt the policy of 'zero tolerance' against crime and criminals to provide public fearless atmosphere in the state", Ms Raje said at the Collectors-Superintendent of Police Conference at CMO in Jaipur today.
Addressing the officials on the second day of the conference, she asked the SPs to take immediate action against those disturbing law and order and be cordial and sensitive towards the public which believe in peace.
Criminals or law & order violators should have "police fear," while public should have faith on police, she said.
SPs should act immediately on every crime, small or big, and try their best so that "personal issue" between two groups of people does not turn into a communal incident, Ms Raje said.
The Chief Minister said that police should be answerable to public representatives (MLAs, MPs, councillors etc) and attend their phone calls.
If any police personnel is found not attending or responding to elected representatives, action would be taken against him/her, she added.
The day-long meeting was attended by Home Minister GC Kataria, SPs of 33 districts in the state and senior officials of Police Headquarters.
Ms Raje hailed the decline in crime graph against women, Dalit, SC/ST community, and weaker sections of the society.
She also patted cops for maintaining better law and order conditions during the Gujjar agitation in parts of the state.
Chief Minister opined that a special cell be set up to monitor social sites on internet to check unruly, obscene, hate and inflammatory comments, as at times such comments had created law and order problem.
Expressing serious concern over rising road mishaps in the state, Ms Raje the told SPs that they should contain drunk driving and act against those found using mobile phones while driving.
A comprehensive plan should be prepared with the coordinated efforts of road safety, police department, NGOs and transport department for accident free driving, she said.
To curb inter-state crime, the SPs should coordinate with other police personnel and Collectors of neighbouring states, the Chief Minister said.
The Superintendents of Police posted in districts along the International Border should have regular interaction with Army and BSF officials for effective monitoring of law and order, she said.
Intelligence related inputs should be shared between Collectors and SPs, she said.
Earlier, addressing the conference, Rajasthan Home Minister GC Kataria said that crime rate has declined to 7.2 per cent in 2013-14 as against 14.7 per cent in previous year of 2012-13.
In last six months, crime rate stood at minus five per cent, the minister claimed.
Mr Kataria asked the police personnel to hold public hearing through community liaising to improve law and order situation in small towns and areas of the big cities.