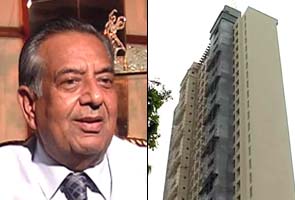 New Delhi:
Former Army chiefs General N C Vij and Deepak Kapoor have said they are surrendering their flats from the scam-tainted Adarsh Housing Society.
General Vij said he is also giving up the membership of society.
"I have written to the Adarsh Society that I am giving up the membership with immediate effect. I have also informed the Defence Minister of my decision," he told NDTV.
General Vij also said had purchased a flat in the Society in Mumbai after retirement without knowing that they were meant for war widows.
He has favoured an investigation into the whole episode to punish the guilty.
"I applied for the flat after I had retired and at that time, but I had no idea that it was meant for war widows and Kargil heroes... having discovered this, I discussed it with Admiral Madhavendra Singh and General Deepak Kapoor and jointly decided to surrender the flat," Vij told reporters in New Delhi.
In a joint statement released by Singh on Friday, the three former services chiefs had said they would return the flats if they were meant for war heroes and their families.
Asked if he is open for any probe into the alleged scam, Vij said, "Let there be investigations and the facts of the case be ascertained."
"I have decided to return the flat to the authorities concerned," he said adding, "I don't want to be even remotely associated with this and deprive the war widows of their right."
Asked if the whole episode had hurt the image of the armed forces, the former Army chief said, "It does hurt the morale of the armed forces."
Meanwhile, former Navy Vice Chief Vice Admiral R P Suthan has said he was allotted the flat in 2004 but he pulled out of the scheme after the Housing Society failed to show him the documents related to the building.
A controversy has erupted over how the Adarsh society in upscale Colaba, originally meant to be a six-storey structure to house Kargil war heroes and widows, got converted into a 31-storey building.
The high-rise is built on 6,450 sq metres within the Colaba naval area and was cleared on the condition of housing war veterans but now has 104 members including senior Army commanders, a former environment minister, legislators and state bureaucrats.