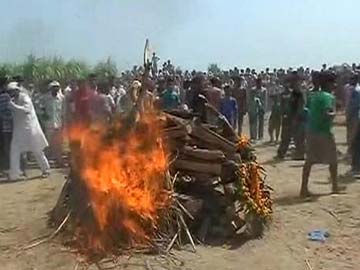 Bulandshahr:
Two young Army jawans from Bulandshahr district in Uttar Pradesh, killed over the weekend in fierce gun-battles with militants in Kashmir, were cremated in their villages today.
The families of both Neeraj Raghav and Rahul Kumar expressed not just a sense of tragic loss, but also betrayal.
Brijpal Singh, a relative of Grenadier Rahul Kumar of the 23 Grenadiers Battalion, said after the funeral, "They said 'achchey din' (good days) will come. Is this how we will see our good days? Our boy has died."
He said no minister or government official had visited the family of the martyr, adding bitterly, "They just make false promises and do everything for votes."
The family of Neeraj Raghav sat for hours with his body in a coffin draped in the Tricolur, refusing to cremate him till a central minister or the chief minister of UP visited them.
"Till a representative from the central government or the chief minister comes, we will sit with our brother's body," said the martyr's brother Satish Kumar, as a huge crowd gathered to pay respect.
The family later cremated the young soldier after they were reportedly connected on phone to Home Minister Rajnath Singh, who assured them of all help. The minister has reportedly promised the families of both martyred soldiers will be allotted a petrol pump or gas agency.
The Uttar Pradesh government has announced 20 lakh in compensation for each family.
The two young soldiers were among three jawans killed in two fierce and long encounters with militants in Kashmir's Kupwara district. Six militants were killed in the gunbattles.