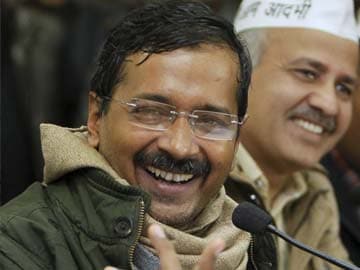 New Delhi:
Delhi Chief Minister
Arvind Kejriwal
has said that the Delhi assembly will meet in a special session from the 13th to 16th of next month to debate and vote on the anti-corruption Jan Lokpal Bill.
The public is invited to attend the last day of the session, which will be held, untypically, at a large stadium in the city.
Mr Kejriwal this morning said that the Lokpal Bill passed by parliament recently was a sham attempt to combat corruption and so weak that it "can't even kill a mouse, let alone end corruption."
Lokpal refers to an ombudsman empowered to investigate charges of corruption against government officials. The Delhi government says its version of the legislation is far more comprehensive and exacting than what has been cleared by parliament at the national level.
One of the drafts reportedly being considered by Mr Kejriwal seeks life imprisonment as the maximum punishment for corrupt officers, and six months in jail as the minimum punishment. Confiscation of property and assets of corrupt officials is another provision in the bill, said sources.
The Lokpal will also have the power to investigate the chief minister and his office.
Mr Kejriwal and his Aam Aadmi Party (AAP) captured public imagination by declaring they would deliver honest and transparent governance. The platform, promised at a time when a spray of major financial scandals have encircled the union government, led to a dream debut for the political start-up in last month's state election in Delhi.