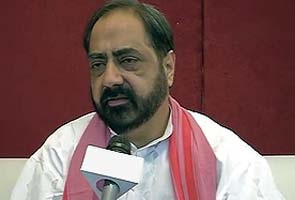 New Delhi:
Delhi BJP Vice President Aamir Raza Hussain has resigned from his post after his statement after publicly criticising Gujarat Chief Minister Narendra Modi ,widely seen as the front-runner for the party's prime ministerial candidate.
"Nobody pressured or asked me to resign," Mr Husain said today. "Don't think the way to project yourself as PM-in-waiting is to go ahead with berating 15% of the population," he warned, in a reference to recent controversial remarks by Mr Modi.
On Monday, Mr Hussain reportedly said on a news channel that Mr Modi, who was recently selected to lead the BJP's campaign for the national election, cannot escape accountability for the communal violence in his state in 2002 in which hundreds of people were killed, most of them Muslims.
Mr Husain had also said that he would prefer senior party leader L K Advani or Leader of Opposition in Lok Sabha Sushma Swaraj as the BJP's candidate for Prime Minister.
In public comments in recent days, Mr Modi appears to be aggressively promoting his hardliner credentials. Since Friday, he has used the analogy of a puppy being run over in the context of the communal riots of 2002, declared himself a Hindu nationalist, and accused the Congress of using a "burqa (veil) of secularism" to conceal its administrative failures. The strategy appears to be aimed at polarising the pro-Hindutva right-wing vote as other parties try to consolidate the minority vote against him.
(Read)