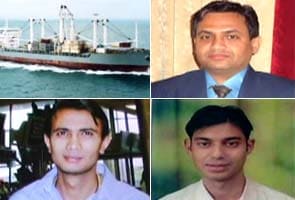 New Delhi:
Protected by nine Pakistani commandos who are now on board the MV Suez, the ship which has six Indian sailors among the 22-member crew is likely to reach the port of Salalah in Oman tomorrow morning.
The Pakistani warship, the PNS Babar, reached the Suez on Wednesday after its crew says repeated calls to the Indian Navy were ignored. As the Babar began escorting the Suez away from the waters where it was attacked by Somali pirates, India sent a warship to help out. The late action was criticized by many, among them the Indian sailors on board the Suez and their families.
The crew of the Suez which is owned by an Egyptian company was first taken hostage nine months ago. On board are six Indians, four Pakistanis, one Sri Lankan and 11 Egyptians.
A 2.1 million dollar ransom was paid by the ship's owners with assistance from donations from Pakistan. The crew was freed earlier this week, but within hours, pirates began circling the Suez again, promoting SOS calls to the Indian Navy and to Pakistan.
Yesterday, Wasi Hasan, the captain of the Suez, told NDTV that there was just a day's worth of food left on the ship. He also said that the ship was running out of diesel, and that the Suez crew may have to abandon their ship and move to the Babar.