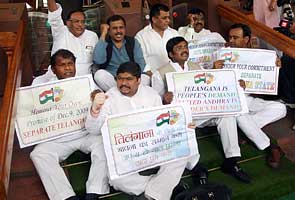 New Delhi:
Eight Congress MPs from Telangana have been suspended for four days - through a motion moved by Parliamentary Affairs Minister Pawan Kumar Bansal - for repeatedly disrupting Lok Sabha proceedings today as the Budget Session of Parliament resumed after a 22-day break.
In much embarrassment for the ruling party, the MPs, demanding that a separate Telangana state be carved out of Andhra Pradesh, forced three adjournments of the lower House.
The government's unprecedented action came after a meeting that the Prime Minister held with Congress chief Sonia Gandhi. Suspending its own members is a serious move; it will mean that for four days the Congress-led UPA will be eight short in the Lok Sabha and on any issue could be caught without adequate numbers if the Samajwadi Party and BSP do not support it.
But the government is keen to send out the message that it means to pass legislation and run this Parliament session properly. There are a number of important bills that need to be passed in the Budget Session. "The decision was taken with a heavy heart as the Telangana MPs were not listening to us," said V Narayanasamy, Minister of State in the Prime Minister's Office.
Mr Bansal later said the suspension had nothing to do with the separate statehood issue. "It has nothing to do with demand on the substantive matter. They have only been suspended from the services of the House for four days," he told reporters.
Leader of the Lok Sabha and senior Congressman Pranab Mukherjee met Leader of Opposition Sushma Swaraj and other leaders like Mulayam Singh Yadav, Sharad Yadav and the Left's Gurudas Dasgupta to try and garner their support as it made a tough call. There are no big matters that will be put to vote in Parliament in the next four days.
Even after they were suspended, the eight Telangana MPs - Ponnam Prabhakar, Madhu Yaskhi Goud, M Jagannath, K R G Reddy, G Viveknanda, Balram Naik, Sukender Reddy Gutha and S Rajaiah - sat in the Well of the House refusing to exit. They later met the Speaker Meira Kumar in her chamber. The Lok Sabha was adjourned for the day without transacting business.
Up ahead, the government faces other hurdles. The Opposition has come to the session armed with the issues of Congress leader Abhishek Manu Singhvi's resignation over a CD, chief economic advisor Kaushik Basu's "no reforms till 2014" statement and other ammunition to attack the government with.
Mr Singhvi quit as Congress spokesperson yesterday after a controversial CD, allegedly featuring him, went viral. He also resigned as the head of the parliamentary standing committee on law and justice. Mr Singhvi has said the CD is doctored but he has resigned to "prevent even the slightest possible Parliamentary disruption regarding the purported CDs being circulated about me." He said that as a "disciplined party soldier he did not want to inconvenience his party."
The BJP is not buying; it wants Mr Singhvi to explain his decision to quit in Parliament. "This is a serious matter and the party has so far restrained itself from speaking on the issue. I hope Parliament will get an explanation from him on his decision to resign," said Leader of the Opposition in Rajya Sabha Arun Jaitley.
The Congress has defended Mr Singhvi. "I think we shouldn't really intrude where we shouldn't be intruding. Questions relating to one's public performance and public office are of course questions that anyone can ask and I think an appropriate, sensible balance between all these things should be maintained by everybody- by us, by public persons, by the media and by anyone who believe they have the legitimate right to ask questions. I think we just have to have an appropriate balance and what that balance will be, we'll all have to decide together," said Salman Khurshid, Law Minister.
Along with Mr Singhvi's resignation, the central government's Chief Economic Advisor Kaushik Basu's reported remark that "major economic reforms would hit the road block and are unlikely to happen before the next Parliamentary elections" may also be brought up by the Opposition. After the reported statement led to a political storm, Mr Basu had said that he was quoted out of context.
In an exclusive interview to NDTV, Mr Basu said his remarks were pegged to the possible European crisis in 2014 and that he believes some reforms will happen quickly. "There is no divergence of views with Montek Singh Ahluwalia... My remarks were pegged to the possible European crisis in 2014... I believe some reforms will happen quickly," said Mr Basu.
Then, there is the Congress' truant ally Mamata Banerjee's 15-day ultimatum that a moratorium be declared on Bengal's loans; another issue that could have the government struggling. However, along with dealing with these, it's the huge pile of bills that it has to push through that is foremost on the government's agenda. Especially the finance bill, some education bills and the contentious Lokpal Bill.