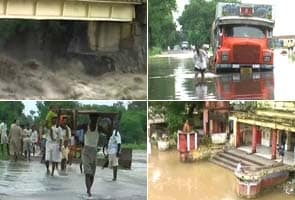 Haridwar:
At least 76 people have died and several are still missing in Uttarakhand after cloudbursts and landlslides triggered by heavy rains.
The region has seen some respite after four days of heavy downpour. The Chief Minister himself took stock of the situation in Haridwar and Almora districts, which have been most affected by the floods.
Congress President Sonia Gandhi too visited the nature ravaged state on Tuesday accompanied by Defence Minister A K Antony and Digvijay Singh.
(Read: Sonia touring flood-hit areas of Uttarakhand)
Around 400 kilometres of mountain roads have been severely damaged, which in turn has delayed relief operations.
Almora, Chamauli, Uttarkashi and Nainital are worst hit more than 25 homes washed away.
Many tourist resorts near the Corbett National Park are damaged. Power and communication lines have snapped. The government has ordered schools to be shut till Tuesday.
Rising water can be seen in Rishikesh and Haridwar, as water was released from the Tehri dam. The water level of Ganga at Haridwar is almost two meters above the danger mark.
"If it breaches the 830 feet mark, there could be a deluge. The Teri dam has the capacity to hold water up to 830 feet. The Koteshwar dam will overflow as a result. Massive damage is feared in parts of Rishikesh, Haridwar and western Uttar Pradesh," said Ramesh Pokherial Nishank, Chief Minister, Uttarakhand.
The National Disaster Management Authority is sending in men and resources to rescue the marooned villagers.
100 Jawans with 20 boats from the National Disaster Response Force have been sent to Haridwar, another batch of 125 jawans and 25 boats of have been sent to Rishikesh.