Raipur:
Highlights
20 CRPF soldiers were passing through Dantewada when the blast happened
State Home Minister blames security personnel for travelling unprepared.
Explosion left a huge crater in the ground
A powerful landmine blast struck a truck filled with para-military soldiers in central Chhattisgarh, killing seven policemen, in the latest attack by Naxals.
The rebels looted the weapons in the truck after exploding the mine which left a massive four-feet crater in the road, a deadly pointer of the amount of explosives used. Another: The truck was blown to pieces.
Chhattisgarh Home Minister Ajay Chandrakar told NDTV, "It was a major lapse on part of forces to move without uniform and arms. This is violation of rules where soldiers should not move in sensitive areas unprepared."
"We will investigate why this carelessness occurred," Mr Chandrakar said.
The vehicle carrying the Central Reserve Police Force (CRPF) officers hit the landmine as it travelled through the forested and remote Dantewada district, 220 miles south of the capital, Raipur.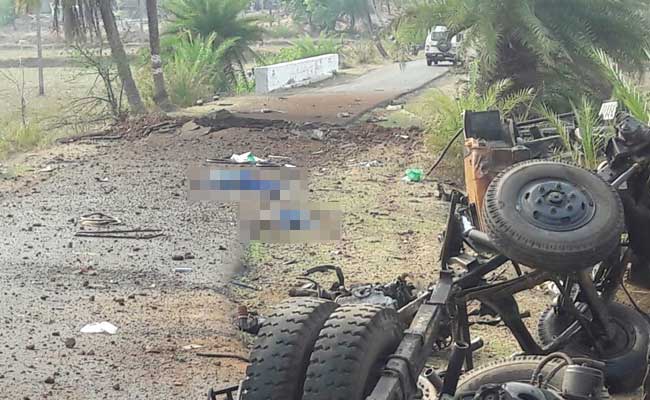 "Seven jawans (officers) of the CRPF were killed," said Chhattisgarh Director General of Police AN Upadhyay.
Dantewada, part of the mineral rich Bastar region, has long been a Naxal stronghold.