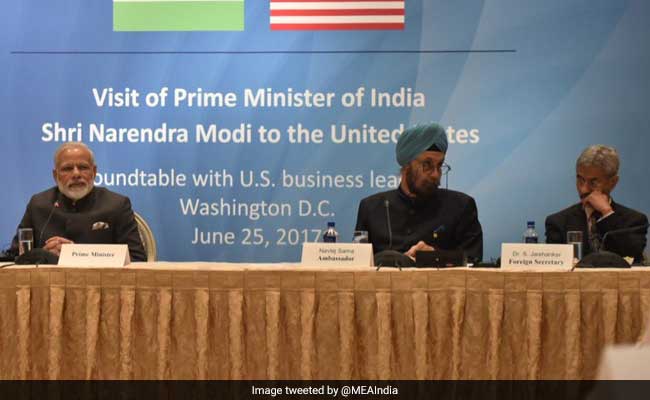 Highlights
Growth of India presents win-win partnership for India and US both: PM
CEO's praise reform, steps to improve ease of doing business: MEA
21 industry leaders turned up to hear from PM Modi at business meet
Washington:
It was a stellar list of 21 industry leaders that turned up to hear Prime Minister Narendra Modi on a Sunday morning at Washington's Hotel Willard Intercontinental: it included Google's Sundar Pichai, Amazon's Jeff Bezos, Apple's Tim Cook, Caterpillar's Jim Umpleby and Walmart's Doug McMillon. And to them, PM Modi's message was, "Growth of India presents a win-win partnership for India and US both. US companies have a great opportunity to contribute to that".
The US CEOs had concerns about the economic scenario in India since demonetization and job creation, given PM Modi's focus on 'Make in India'. The other big area of concern was the trade barriers and investment - the result of what they perceive as a protectionist regime -- which has pushed India down to the 130th position among 189 nations in the Ease of Doing Business index. Over the weekend, four leading
US lawmakers had met President Trump
, asking him to press the issue with PM Modi.
Addressing the concerns, PM Modi spoke of the government's initiatives, saying they numbered 7,000 - meant for "ease of business and minimum government, maximum governance". These included the government's flagship Goods and Services Tax - which PM said was a game-changer - that has simplified the tax regime that alone contributed greatly to the difficulties of doing business in India. Its implementation, he said, "
could be a subject of studies in US business schools
."
India, PM Modi said, attracted the largest foreign direct investment as a result of the NDA government's policies over the last three years. The whole world, he said, was "looking at India".
A who's who of business. Here's the list of CEOs attending the CEOs Roundtable today pic.twitter.com/TclnZjNRz1

- Gopal Baglay (@MEAIndia) June 25, 2017
The foreign ministry said the CEOs expressed support for "Make in India and Digital India, Start Up India and other Flagship initiatives of the government".
Calling it a "very good" discussion, Google chief Sundar Pichai said he thought everyone was excited about investing in India.
The Prime Minister, he said, "was looking for insights into how India can attract more foreign investment. Many good ideas discussed". He said he was "looking forward" to the rollout of the GST . "I know it was difficult... shows you can achieve reform by pushing for it," he added.