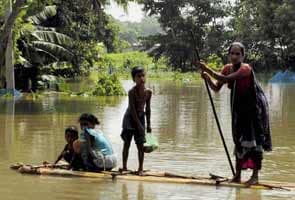 Guwahati:
The flood situation in Assam continues to be grim with the toll having risen sharply to 61. Nearly 20 lakh people have also been displaced in the flood, the worst in more than a decade.
Meanwhile, the Prime Minister and the UPA chairperson Sonia Gandhi are slated to visit the state today to take stock of the situation. They are expected to reach Jorhat by a special flight and conduct an aerial survey of Majuli island, which has suffered serious damage in the flood.
From there, they will come to Guwahati and hold talks with ministers and senior state government officials, before returning to Delhi.
Even though the heavy rain - that had lashed the state for the last four days - has stopped and the water level in rivers has started receding, rescue and relief operations are far from satisfactory across the 27 districts affected by the flood.
Nearly two lakh people still remain affected in Majuli, Asia's largest river island in upper Assam's Jorhat district, while several animals including about 10 deers have lost their lives due to the flood water in the Kaziranga national park.
The government has set up 768 relief camps across the affected districts. Army spokesman Lt Col N N Joshi said over 2500 marooned people had been rescued by the army from the flood-affected districts in the state. More than 30 teams of army rescuers with speedboats rescued the marooned from Sonitpur, Barpeta, Kamrup (rural), Baksa and Darrang districts, Joshi said. Army personnel were on duty in Sootea, Jamuguri, Baksar, Nalbar, Darrang and Barpeta where rice, pulses and drinking water were being distributed. Major General D K Purohit of the Gajraj Corps personally visited the affected areas and took stock of the situation. He has assured all help from the army's side for the victims.
The Assam government had announced Rs 1 lakh each as ex-gratia payment to those families, whose members had died in the floods.
Apart from this, the government had also assured the affected people to compensate for the damage to their properties and paddy fields.