Bathinda, Punjab:
Highlights
Jaswant Singh was waiting for compensation for land he sold to government
The family and farmers union to continue protest 'until justice is done'
His suicide has exposed the Congress government's big pro-farmers claims
It's been six days since a farmer committed suicide in Punjab's Lehra Bega, a small village about 20km from Bathinda city. The body of 70-year-old Jaswant Singh lay in a freezer. His relatives and members of the Bharatiya Kisan Union (BKU) have refused to cremate him until his culprits are arrested. The protesting group wants the Punjab government to take immediate action, release Rs 10 lakh as compensation for Mr Singh's family, government jobs for his two sons, and the family's debt to be waived.
Meanwhile, the Punjab Police have cordoned off the area.
Soon after Chief Minister Captain Amarinder Singh took charge of the state in March this year, the state government promised a bonanza for its debt-ridden farmers "in the next three months" and said it was "committed to safeguarding interests of farmers and other sections of society".
But Jaswant Singh's death seems to have exposed Congress' big claims of waiving loans of over Rs 80,000 crore in the state.
Jaswant Singh had consumed poison on May 10. About 22 marlas (roughly an eighth of an acre) of his land was acquired for a grain market over a year ago and he was still awaiting compensation for the same.
In his suicide note, he has blamed a junior revenue official, a patwari, for harassment. He had been delaying disbursement of his compensation, Mr Singh has alleged.
"The land revenue officials owed my father nearly Rs 35 lakh. Not only was my father being refused the money, the compensation due to him was given to another land owner," said Gurdip Singh, the farmer's son.
His family claims Mr Singh made multiple trips to various offices for nearly a year, to no avail. His granddaughter's wedding later this month was adding to his worries.
Mr Singh had already taken a loan of Rs 5 lakh for which the family was paying Rs 80,000 every six months during the harvest season. "The compensation amount was our only hope," he added.
Manjit Singh, a local kisan leader and member of the BKU, says they will continue their protest until justice is done.
"The authorities have been passing the buck. Not only was Jaswant Singh denied his rightful compensation, he was also being troubled by private money lenders," Manjit Singh said.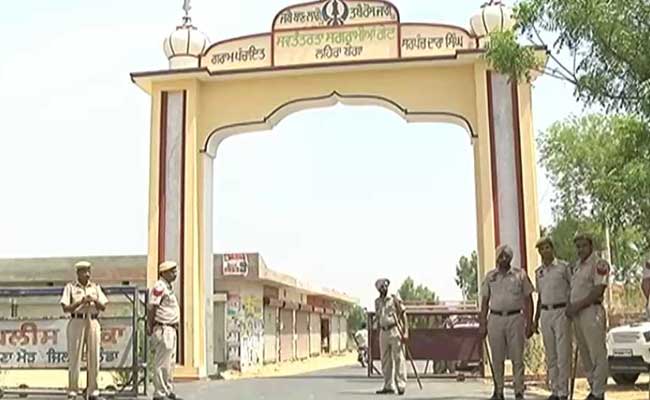 The Punjab Police have cordoned off the area.
Bathinda DSP Gurjit Singh Romana said an FIR has been registered against three men, including the patwari named in the suicide note. On May 15, police arrested Trilochan Singh, one of his two accomplices. The other two accused remain absconding.
Farmer suicides in Punjab continue to be a huge challenge. According to reports, 6,926 suicides by farmers and landless labourers were reported between 2000 and 2010. The average number of farmer suicides per year was 692 and the highest numbers came from the Malwa districts of Bhatinda, Sangrur and Mansa.
A new report commissioned by the previous Punjab government to study farmer suicides between 2010 and 2013 is still being compiled. The average number of suicides per year is said to have gone up.
The Amarinder Singh-government has also constituted an expert group headed by T Haque, former head of Commission for Agricultural Costs and Prices, to suggest ways and means to reach an achievable goal.