Jaipur:
More than 500 cows have died in the last two weeks, say volunteers, at a shelter near Jaipur in Rajasthan, their neglected stalls turning into death traps.
The Rajasthan government on Saturday ordered a high-level inquiry and suspended two senior officials for dereliction of duty.
Since more than 250 contractual workers at the Hingonia cow shelter went on strike last month to demand that they be paid, no one has cleaned the stalls where the animals are kept or fed them, and many have starved to death, their hooves stuck in slush caused by heavy rain and cow dung.
There is no official count of the number of cows that have died, but volunteers who have arrived to help clean the sheds say they have taken out 90 carcasses in the last two days and there are many more dead cows. The shelter houses about 8,000 cows. Government vet Dr Devendra Kumar Yadav confirmed that most of the cows have died from starvation not disease.
"The main reason is that workers here have not been paid since May and with no labour how do you expect me to sort out the problem?" said Bhagwat Singh Dewal, chairman of the shelter, which has an yearly budget of 20 crore.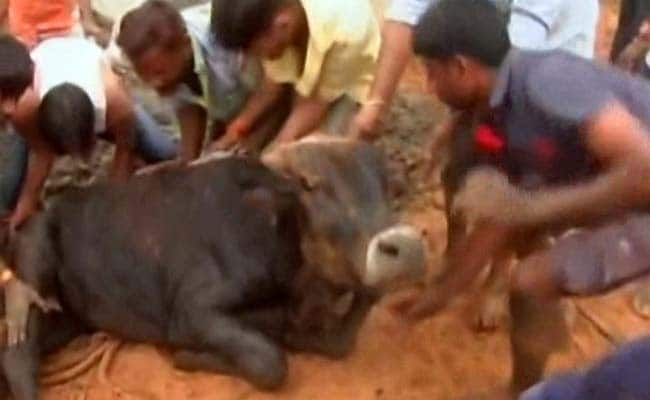 The salaries were held up because of a dispute between the Jaipur Municipal Corporation and the firm through which the workers are hired to clean the cow sheds and feed the animals.
As local media reported the deaths, the Rajasthan High Court has sought a report from the government, which has swung into action moving in heavy machines to clear the muck.
The Congress has attacked the ruling BJP in the state. "Where are the '
gau-rakshaks
' (cow protectors) now?" said Rameshwar Dudi, leader of the opposition in the Rajasthan assembly.
"This is government apathy and neglect," he alleged, after a tour of the shelter.