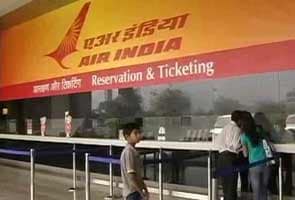 New Delhi:
Cash-strapped national carrier Air India seems to be headed for another showdown with its pilots over alleged non-payment of their allowances. At least 40 of the airline's pilots called in sick this morning, affecting flight operations in Delhi and Mumbai. Operations in Kolkata and Chennai are said to be normal so far.
According to reports, at least 14 Air India flights scheduled to depart from Delhi have been cancelled and two have been delayed so far due to the agitation. In Mumbai, two flights have been cancelled while several flights have been delayed.
The erstwhile Indian Airline pilots association has claimed that its members have taken a decision to strike work from today. They claim they haven't received their flying allowances for the past six months. But the Indian Commercial Pilots Association (ICPA), which is the main pilots' body, maintains that it has not called for the strike and that it's not a union led strike. They say only members of the erstwhile Indian Airline pilot association are striking work. The pilots who have reported sick in Delhi have done so in their individual capacity, core members of the ICPA added. They say the association is in talks with these pilots to convince them to come back work.
Air India management has however denied any salary payment issues. Speaking to NDTV, Rohit Nandan, the Managing Director of Air India said, "We have no news of any strike. And as an organization I think the concerned pilot association has not given us any such information. We can call it a strike in legal terms only if there is a notice given. It's happening more on an individual basis and we are trying to assess its total impact and trying to handle whatever we can do. The basic purpose at the moment is that the passengers shouldn't be inconvenienced. Salaries have been paid. We will try and talk to the pilots and sort out the matter as soon as possible."
Sources say several meeting of the concerned pilots' association and the airline management will take place today.
Meanwhile, Civil Aviation Minister Ajit Singh, in response to the agitation, said, "They (pilots) have not sent a notice but some have reported sick. Some disruption is there in Delhi but nothing has happened anywhere else.
"The employees have a problem, they have not been paid for one-two months. Allowances have not been paid for quite a few months now. We understand their problem but Air India's finances are in a bad condition. Their accounts were frozen yesterday," he said.
Singh said he would be meeting the Finance Minister on the issue next week.
"By the end of next week, maybe we will be able to pay...I won't say all the allowances and salaries will be paid but most of it should be paid," he said.
Emphasising that Air India has a long term financial problem, he said, "We are worried about the employees. Any employee who does not get paid for months we can understand their problem. We are working to resolve the short term problem. We hope by the end of next week, they should be resolved, he said.
An Air Indian official in Delhi said, "We have clubbed the early morning flight with the flights operating later in the day." (With PTI Inputs)