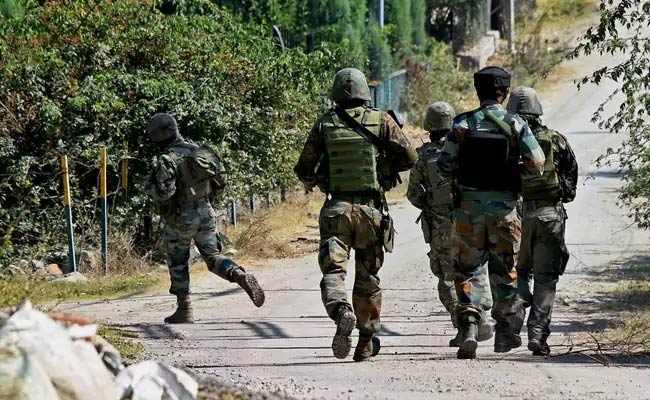 Highlights
Army personnel say they were fired upon when they signalled a car to stop
3 of the 4 killed were accompanying the terrorist in the car, Army said
Locals, however, allege that civilians were killed in army firing
Shopian:
Two terrorists and four civilians were killed as security forces said they responded to an attack on a mobile vehicle check post in south Kashmir's Shopian last evening. While security forces claim that the three killed, who they say were travelling in a car with the terrorist, were his associates, locals say that they were civilians.
Eyewitnesses say the body of a terrorist, Amir Ahmad Malik, was found lying on ground near the firing site. A weapon was found on him. The bodies of three civilians were in a vehicle. The bullet-ridden body of Lashkar-e-Taiba terrorist Ashiq Hussain Bhat was recovered from an orchard, about 6 kms from the firing spot. He was missing since November.
A 24-year-old student, who was studying at a Maharashtra university, became the fourth civilian casualty of the firing. His body was found in his vehicle this morning.
"Deeply distressed by more deaths of civilians caught in the crossfire in Shopian. My heartfelt condolences to the deceased's families," Chief Minister Mehbooba Mufti tweeted.
The police have imposed restrictions in parts of Srinagar today to prevent separatist-called protests. Internet and rail services have been suspended across south Kashmir. Businesses and markets to stay shut in Srinagar. The State Public Service Commission also cancelled the civil services exam today.
Security forces said the attack took place around 8 pm. The check post manned by army personnel was fired upon after they signalled a car to stop, a security official told news agency PTI.
"The three OGWs/accomplices in the car who were accompanying the terrorist were found to be dead," a statement from the army said.
OGWs refer to Over-Ground Workers or associates in counter-terrorism parlance.
But local residents alleged that this was the second time this year that civilians have been killed in army firing and the incident could spark unrest.
Mohammad Yousuf Bhat, lawmaker from Shopian, said civilian killings cannot be justified under any circumstances and demanded a judicial probe into the incident.
In January this year, protests erupted in Kashmir when three people were killed in firing by the army which said it was retaliating to a violent demonstration by a stone-throwing mob.
A political row followed when the police filed a First Information Report or FIR against the army and named the officer who was leading the convoy that had come under attack. The FIR was stayed by the Supreme Court last month following an appeal by the officer's father.
The police have not filed an FIR in the Sunday's incident so far and said they are trying to confirm the identities of those killed.