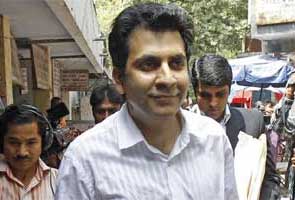 New Delhi:
The massive telecom or 2G scam has delivered a new and powerful installment of controversy - audio tapes have mysteriously surfaced of purported conversations between the CBI's prosecutor and one of the main suspects in the case, Sanjay Chandra, Managing Director of real estate major Unitech.
The conversation allegedly shows the CBI's prosecutor - AK Singh - advising Mr Chandra on legal strategy. The agency has fired Mr Singh; Mr Chandra has denied allegations of collusion.
(Read his statement here).
Both men were questioned by the CBI yesterday.
Unitech's share prices fell by 20% this morning.
(Unitech shares crash 20% over new allegations against Sanjay Chandra)
The CBI director, Ranjit Sinha, appeared before a parliamentary committee that's deconstructing the scam, and said that the agency has not been able to establish who taped the conversations, which were delivered anonymously to its officers. The tapes are being forensically examined by the CBI, but officials say that even if they are genuine, its investigation and case has not been compromised.
Lawyer-activist Prashant Bhushan, whose Public Interest Litigations have led to the Supreme Court monitoring the CBI's investigations in the telecom scandal, said that if the conversations are proved genuine, Mr Chandra's bail should be cancelled.
He spent nearly eight months in jail in 2011 along with several other A-list executives accused of criminal conspiracy and cheating for landing out-of-turn mobile network licenses in 2008 from then Telecom Minister
A Raja.
The 2G scam shook the Prime Minister's fragile coalition after the government's auditor said it had cost the country 1.76 lakh crores.
In a statement last night, Unitech said Mr Chandra "wishes to make it absolutely clear that he has never met the prosecutor in the 2G case outside of court or had any phone conversation with him. He denies the suggestion that his voice is on any alleged recording. It appears a fabricated voice recording has been sent anonymously to the CBI."