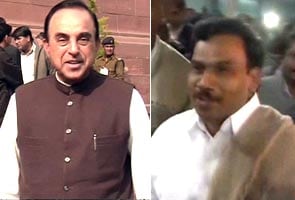 New Delhi:
A Delhi court today held as "maintainable" a private complaint filed by Janata Party chief Subramanian Swamy seeking prosecution of former Telecom Minister A Raja in the 2G spectrum case.
"I am of the opinion that complaint as such is maintainable," Special CBI Judge Pradeep Chaddah said.
The court said that first of all Swamy will have to depose as a complainant in the case and then only his plea, seeking appointment as a deemed public prosecutor, could be decided.
"You cannot assume the roles of a complainant and a public prosecutor simultaneously," the judge said.
"I am not seeking the dual role," Swamy replied and added, "I will first testify as a complainant and then would like to assist this court in prosecuting the accused in the massive scam."
The judge said, "I have also gone through the complaint and the bunch of annexures and supporting documents and I am of the view that this complaint is maintainable and the proceeding will continue."
So far as the summoning of the accused and other witnesses are concerned, for that, applications could be filed at the later stage, the judge said.
The court asked Swamy to record his statement during the day.
Swamy had filed a private complaint before the designated CBI court on December 15 last year seeking prosecution of Raja in the 2G spectrum allocation scam.
He had made a three-fold prayer which included that his complaint be taken cognisance of and Raja be summoned to take the case involving a fraud of Rs 1.76 lakh crore to its logical conclusion.
As per the second prayer, Swamy wanted the court to appoint him "as a deemed public prosecutor under the provisions of the Prevention of Corruption Act."
As per his third prayer, Swamy wanted the court's directions to investigating agencies like Central Bureau of Investigation (CBI) and Enforcement Directorate (ED) to assist him in conducting prosecution and in the further investigation into the scam.
Explaining his rational to the court for filing his private complaint before it, Swamy had said that though the CBI has registered an FIR in the matter, it has named no body as an accused.
Quoting from the CAG report, he had alleged that Raja committed fraud by adopting the first-come-first-served basis in allocating the spectrum to ineligible companies.
85 out of 122 licenses which were awarded to various companies were illegal, Swamy had said, adding that the figure of Rs 1.76 lakh crore has been arrived at by the CAG after computing the losses in allocation of the spectrum.
In his complaint for prosecution of Raja filed under section 190 of the Criminal Procedure Code (CrPC), Swamy also sought directions to the investigative agencies to find out the co-conspirators and other accused in the scam.