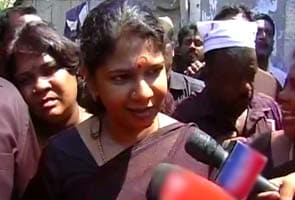 New Delhi:
In a boost for DMK leader and Rajya Sabha MP Kanimozhi, a senior official of Kalaignar TV has testified in her favour in the 2G spectrum scam case. The DMK-run Kalaignar TV is in the dock over bribes being allegedly routed by a telecom company through it that allegedly eventually reached Ms Kanimozhi, the daughter of DMK chief M Karunanidhi.
P Amritam, the Chief Financial Officer of Kalaignar TV, who appeared as a witness in the 2G case told a trial court in Delhi that the Rajya Sabha MP was not involved in the daily affairs of the channel. He also said that Ms Kanimozhi had joined the channel only because her father had asked her to.
The CBI has stated in its chargesheet that the 45-year-old MP was the brain behind the bribe being routed through Kalaignar TV. The agency has also alleged that she was very much involved in the day-to-day functioning of the channel.
Kanimozhi was arrested on May 20, 2011 by the Central Bureau of Investigation (CBI) in connection with payment of Rs. 200 crores by the DB Group to DMK-run Kalaignar TV in which she is one of the directors.
After denial of bail by the trial court, high court and the Supreme Court on earlier occasions, Kanimozhi was finally granted the relief by the High Court on November 28.