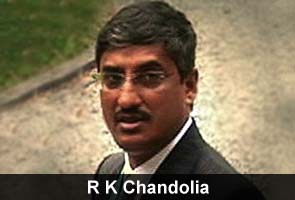 New Delhi:
RK Chandolia, who served as the personal secretary to former telecom minister A Raja, has been granted bail. He was arrested in February for his alleged role in the telecom scam.
The former bureaucrat is on trial along with Mr Raja and 13 others for charges that range from criminal conspiracy to breach of trust by a public servant.
Mr Chandolia has become the 12th person to get bail in the case. Siddharth Behura, another former bureaucrat, is waiting to find out if he will be allowed to leave jail. Mr Raja has refused so far to apply for bail - he says he would prefer to demolish the case against him in court.
Of the 14 people arrested, the CBI had opposed the bail of the three public servants involved.
While granting bail to Mr Chandolia, Judge OP Saini, who is handling the telecom trial said, "There is no allegation that the accused himself accepted any bribe...he was only Personal Secretary to A Raja, had no independent power."
The telecom scam was orchestrated, according to the CBI, by Mr Raja when he was telecom minister. He is accused of giving licenses and frequency for mobile networks to companies who were ineligible.