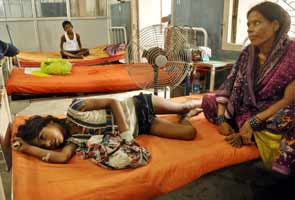 Patna:
Four days after more than 20 children died from a poisoned lunch at their school, the Bihar government has concluded that there was widespread mismanagement among all those people involved in implementing the mid-day meal scheme.
The tragedy has left the village of Gandaman broken and furious, and triggered a national debate over the world's largest school feeding programme.
The principal of the school where the children died remains missing. She is guilty of criminal negligence, says a report prepared by local administrative and police officials in Chappra, 50 miles north of Patna.
The government had so far said that it suspects that the poisoning was deliberate. The principal's husband, who allegedly supplied the groceries for the lunch, has also not been found.
The inquiry, which was ordered on Monday evening, hours after children started vomiting in school and were rushed to hospital, also finds that the oil used to cook the meal was highly contaminated and that the rice was contaminated with large amounts of pesticide.
A lab analysis of the chemicals is awaited.
Local villagers, however, have said the problem appeared to be with a side dish of soya and potatoes, not the rice that was served as part of the hot meal. Children who did not eat the side dish were fine, even though they had eaten the rice and lentils, several villagers have said.
The union government is planning to set up a special committee that will to review the implementation of the mid-day meal programme and monitor the quality of food and the standards of hygiene.
In Chhapra, some of the 23 children who died were buried across from the government school where the poisoned lunch was served. Devastated parents said this was their way of protesting against the apathy that has destroyed their families forever.