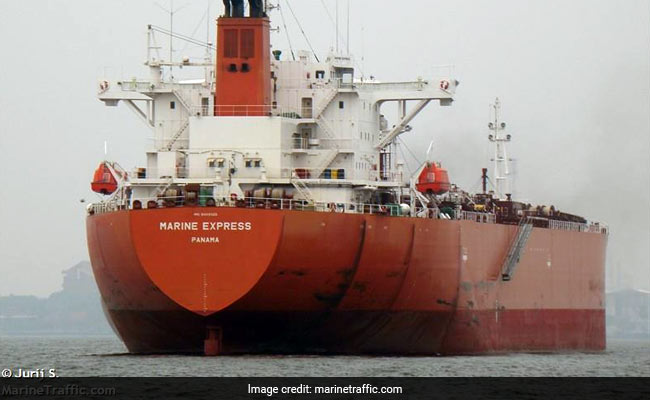 Highlights
Pirates free 22 Indians on board a ship which went missing last week
Hong Kong based shipping company tweets crew members are safe
"Marine Express" tanker was missing in the Gulf of Guinea
New Delhi:
Twenty two Indians on board a ship, which went
missing in the waters in West Africa last week
, have been freed by pirates, according to the shipping company. A Hong Kong-based firm which appointed the Indian sailors on the ship said pirates hijacked their their crew on February 1. The sailors were released reportedly after a ransom was paid.
The "Marine Express" oil tanker was carrying with 13,500 tonnes of gasoline.
"We are delighted to report that the MT Marine Express, which was hijacked by pirates on Feb 1, is now back under the command of the captain & crew since ~04:00 SG time today. All crew members are reported to be safe & well & the cargo intact. We thank you all for your well wishes," Anglo-Eastern tweeted.
The "Marine Express" tanker was missing in the Gulf of Guinea after contact was lost in the African country Benin on Friday. "The ship, 'Marine Express', has been released and is back under the command of the captain," Director General of Shipping Malini Shankar told news agency PTI.
Foreign Minister Sushma Swaraj tweeted this morning, "I am happy to inform that Merchant Ship Marine Express with 22 Indian nationals on board has been released."
On Sunday, Foreign Minister Sushma Swaraj said all efforts were being made to trace the merchant ship "Marine Express" that went missing near west Africa with the 22 Indians on board.
The Indian mission in Nigeria was in touch with the authorities
concerned and the situation was being constantly monitored, the Foreign Ministry had said
The Gulf of Guinea has become an increasing target for pirates who steal cargo and demand ransoms, even as piracy incidents fall worldwide, experts say.
Ships in the area were the target of a series of piracy-related incidents last year, according to a January report by the International Maritime Bureau (IMB), which highlighted the waters off West Africa as an area of growing concern.
(With inputs from Reuters and PTI)