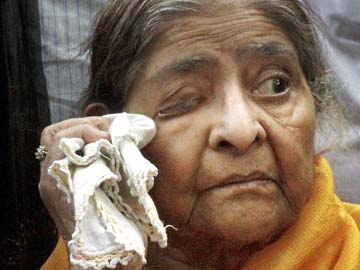 Ahmedabad:
Gujarat riots victim Zakiya Jafri, whose husband was burnt alive during the 2002 riots in the state, today filed an appeal in the High Court against the metropolitan court's order accepting the Supreme-Court-appointed Special Investigation Team's (SIT) closure report on Narendra Modi.
In December, the metropolitan court had accepted the clean chit given to the Gujarat chief minister, rejecting Ms Jafri's petition. Ms Jafri had challenged the SIT's closure report that said there was no prosecutable evidence against Mr Modi.
The Criminal Revision Application filed by Ms Jafri runs into about 540 pages and has laid out substantive grounds for rejection of the order of the lower court. The petition stated that the Metropolitan Magistrate committed a fundamental error in law and on facts in failing to exercise his jurisdiction. "By not dealing with the substantive arguments laid down by the petitioner in written and oral submissions, the Judge has simply accepted the contentions in the closure report with a non-application of mind," the petition said.
It further stated that "the metropolitan court had failed to consider several evidences that were put to establish prima facie the involvement of the Gujarat chief minister in serious crimes of conspiracy and abetment and which was sufficient to establish his involvement in the conspiracy and abetment of crimes of murder, arson and rape."
Ms Jafri had alleged that Mr Modi colluded with senior ministers, bureaucrats and the police to fan the communal violence that tore through the state. These allegations were investigated by the SIT in March 2008.
After four years, the SIT said in February 2012 that there was no prosecutable evidence against Mr Modi and 59 others in this case and filed a closure report indicating its inquiry has ended.
Ms Jafri's husband, Ehsan Jafri, a former Congress MP, was among the 68 people of Gulbarg Society in Ahmedabad, killed by a mob on February 28, 2002. Mr Jafri's frantic phone calls for help to the police and politicians were allegedly ignored.