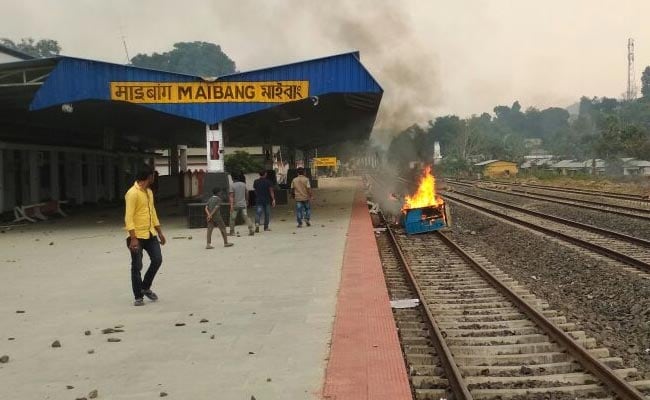 Highlights
Centre has negotiated peace deal with Naga groups
Dimasa tribals are wary of losing their land to Nagaland
A 48-hour bandh has been called in the area
Guwahati:
There's tension in the hill district of Dima Hasao in Assam after two people were killed in police firing during a violent demonstration to protest the reported inclusion of the district as part of Greater Nagaland. The district has seen protests over the last few days after a media report quoted an RSS functionary as saying that the draft of the Naga peace deal shows that the district, where Dimasa is the dominant tribe, will be part of Greater Nagaland, as per a peace deal being negotiated by the central government.
A 12-hour bandh called on Thursday turned violent as protesters clashed with the police at the Maibong railway station. The protesters damaged rail tracks and vandalised the station after which five protesters were injured in police firing. While one of them died on Thursday evening, another died today. Two policemen were also injured in the clash.
"The death of two protesters is rather unfortunate but police had no other option but to fire. The situation is tense but we are in control and, in fact, Republic Day was celebrated there," Assam Director General of Police Mukesh Sahay told NDTV.
The Dimasa tribals are wary of losing their land to Nagaland, should the district be included in Greater Nagaland. They are also opposed to the idea of an autonomous body, on the lines of the Bodoland territorial council, for Nagas living in Dima Hasao.
A 48-hour bandh has been called in the area beginning today. Prohibitory orders under Section 144 of the Code of Criminal Procedure (CrPC) have been issued and Assistant Director General of Police Mukesh Agrawal is camping there with a huge reinforcement. Rail services to southern Assam and Tripura have been affected as the route passes through Dima Hasao.