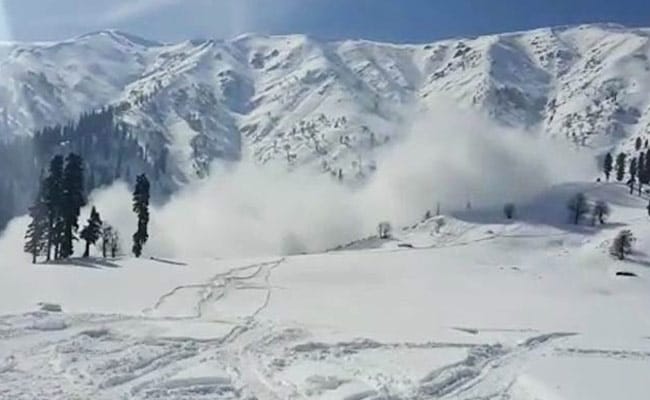 Highlights
Three avalanches took place in Gurez, one in Sonmarg
10 soldiers, 4 civilians died in Gurez, 1 officer died in Sonmarg
Rescue operations in Gurez hampered by bad weather
Srinagar:
Four avalanches on a single day have claimed the lives of 15 persons -- 11 soldiers and four civilians -- in Jammu and Kashmir. Three of the avalanches took place in the high altitude area of Gurez, and one in Sonmarg. The bodies have been recovered, but many more soldiers are said to be missing in Gurez. The army said a rescue operation is on, but it is being hampered by strong winds and heavy snowfall in the area. There is also the danger of more avalanches.
The first avalanche hit Gurez yesterday morning, in which a family of four civilians died. The second took place around the same time in Sonmarg, chiefly a tourist area, where an army camp was located. While seven soldiers were rescued later, a Major, Amit Sagar, who had been buried in snow, could not be saved.
In the evening, two avalanches again hit the Gurez Valley -- roughly 150 km from Sonmarg -- in quick succession. One affected an army camp located there, the other hit a group of soldiers who had been out on patrol. The bodies of 10 soldiers have been recovered from the area, the army said. It is not yet known how many soldiers are missing.
With heavy snowfall over the last few days, there have been multiple avalanches in Jammu and Kashmir. Yesterday, the Chandigarh-based Snow and Avalanche Study Establishment warned of more avalanches in Jammu and Kashmir and Himachal Pradesh.
In Jammu and Kashmir, Kupwara, Bandipora, Anantnag, Baramulla, Ganderbal, Kulgam, Budgam, Poonch, Rajouri, Ramban, Reasi, Doda and Kishtwar districts are particularly prone to avalanches.
In Himachal, alerts have been issued in Kullu, Chamba, Lahaul and Spiti, Mandi, Kangra, Sirmour and Kinnaur districts.
Last March, 11 soldiers had died in an avalanche at an army post at the Siachen glacier, the world's highest battlefield.