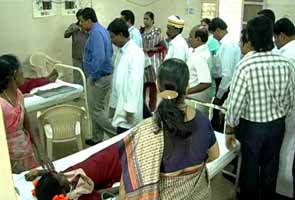 Neyvelli, Tamil Nadu:
170 girls studying at a government school in the Neyveli district of eastern Tamil Nadu were rushed to hospital today after their mid-day meal left them nauseous and dizzy.
By this evening, all but 12 of the students had been allowed to go home. Doctors said none were in critical condition.
Local officials said that the girls are between the ages of 9 and 16, and that the eggs that were given to them as part of their free lunch were contaminated.
"We've sent food samples to the government lab in Chennai and we would be able to pin point what went wrong only after the test report comes," District Collector R Kirlosh told NDTV.
A mid-day meal, infected with insecticide, served at a school in Chhapra in Bihar has killed 23 children.
The tragedy has highlighted the many lapses in a scheme designed to combat malnutrition and incentivise poor families to send their children to school.
The free mid-day meal program, one of the world's biggest school nutrition programs, covers nearly 120 million schoolchildren.