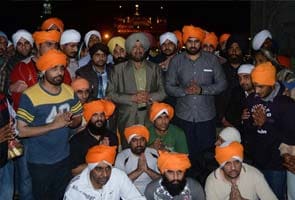 New Delhi:
Seventeen people from Punjab and Haryana, who were on death row in the United Arab Emirates (UAE), landed at Delhi airport today after they were freed by a court.
They were on death row since 2010 for murdering a Pakistani national. They were freed by a Sharjah court after paying blood money of over Rs.5.5 crore to the victim's family.
After reaching Delhi this morning they headed straight for Amritsar to offer prayers at the Golden Temple.
"These boys are very happy to be freed at last and to reach back home. We are heading to Amritsar to offer prayers at Golden Temple," Dubai-based hotelier SP Singh Oberoi, who led a campaign to save the men from the gallows and to get them freed, said after landing at the Indira Gandhi International Airport (IGI) in Delhi.
The 17 Indians - 16 from Punjab and one from Haryana - were allowed to walk free by a Sharjah court after they paid blood money (money paid as compensation to the victim's family) amounting to over Rs.5.5 crore which was paid to the family of the Pakistani national, Misri Khan.
They were convicted of murdering Misri Khan and injuring three others January 2009, following a fight over illegal liquor business.
Two other Pakistanis were injured in the clash which occurred in Sharjah.
The Indian men had all along maintained that they were not involved in the murder of the Pakistani national and that they had been framed.
Oberoi led the campaign to collect money from charity and well-wishers to pay the blood money and secure the freedom of the 17 men.