Highlights
Two terrorists, five CRPF personnel died during a gun battle on Sunday
16-year-old killed is son of a policeman
Security forces are analysing the provocative video
Srinagar:
The body of a third terrorist has been recovered during a search operation inside a four-storey building that serves as a Central Reserve Police Force (CRPF) at Lethpora in Jammu and Kashmir's Pulwama District, just outside state capital Srinagar. Two terrorists and five CRPF personnel died during a gun battle on Sunday after at least three members of Pakistan-based terror group Jaish-e--Mohammed attacked the camp.
Among the terrorists killed is the son of a policeman, a 16-year-old who had joined the Jaish-e-Mohammed a few months ago. Before the attack he recorded a video message in which he talked about the plan to attack the paramilitary camp and which is now being shared virally on WhatsApp and social media. "God willing, when this message reaches you, I will already be a guest of my Lord in his heaven," he said at the beginning of the eight-minute video, in which he urged other young people to join the Jaish-e-Mohammed.
Officers said this is first time that a
fidayeen
or suicide attacker has recorded a provocative message like this before carrying out an attack. Security forces are analysing the video. "Yes it's a cause for serious concern. At a time when we are trying to bring back local youth to the mainstream and many have already given up militancy and are returning to their families, this is certainly not a good sign" said a senior police officer.
On Sunday,
the terrorists lobbed grenades and fired automatic rifles to enter the CRPF camp,
triggering a fierce exchange of fire as hundreds of soldiers and special counterinsurgency police surrounded the area.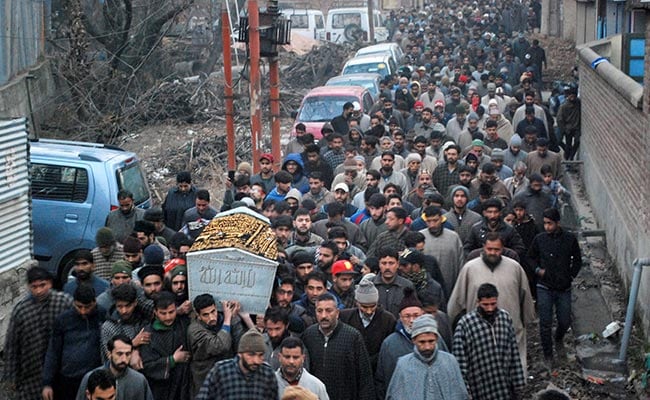 While four CRPF soldiers died in the gun battle, one died of a cardiac arrest during the initial assault, the police said. It was unclear how many personnel were inside the camp during the attack, which came just days after forces killed a top leader of the Jaish-e-Mohammed in a shootout not far from the camp. Three paramilitary troopers were wounded.
The body of one of the CRPF jawans killed which was inside the building has also been recovered. Soldiers were unable to retrieve the body earlier as the remaining terrorist engaged them with heavy firing. This morning security forces bombed the top floor of the building where he was holed up. The bodies of the other two terrorists were recovered yesterday and they were identified as local residents.