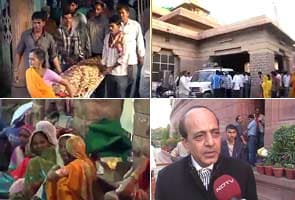 Jodhpur:
A government hospital in Jodhpur has turned into a house of death. In the last three weeks, 16 women have died here, allegedly due to severe medical negligence.
Fifteen of them died after delivering babies, four of who were stillborn. The sixteenth woman - who died on Tuesday morning - had gone through a hysterectomy operation.
In each of these cases, the patients went through excessive bleeding, allegedly caused by contaminated intravenous fluid that was used during and after deliveries.
Four different inquiries - one by the hospital and the others by the state and Central government - have been initiated, but the exact cause of the tragic deaths at Umaid Hospital - the biggest government hospital in western Rajasthan - is yet to be determined. Experts are testing samples of the intravenous fluid to determine if it was the sole cause or a contributing factor to the tragedy. No one has been held accountable so far.
Gita Choudhary was brought to city's Mahatma Gandhi hospital nearly seven weeks ago, after undergoing a hysterectomy at Umaid Hospital that led to severe complications including relentless bleeding. She died on Tuesday.
Her family insists that her condition deteriorated after she was put on a drip after her operation at Umaid Hospital, and that there were no senior doctors to attend to her.
"There were only junior doctors, no seniors. By the time the senior doctors came, she was unconscious," says Gita's brother-in-law Gokul.
At the insistence of her family, the government has agreed that her case will be added to the investigation looking into the 15 other cases of women who died after childbirth at Umaid Hospital.
But at Umaid Hospital, these multiple deaths have prompted no action. The emergency ward - by definition meant to be open 24 hours - operates only between 3 pm and 9 am. When NDTV visited the hospital at 3 pm on Tuesday, we found one resident doctor on duty at the emergency ward. The three senior doctors who were meant to be present there were nowhere to be found.
A team of senior doctors sent by the Union ministry to investigate the Umaid Hospital tragedy have blamed the hospital administration for negligence and apathy. Yet, not one person has been held accountable so far.