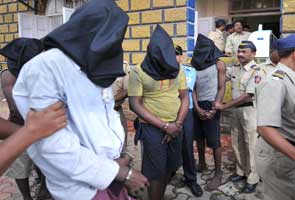 Mumbai:
Blindfolded and handcuffed, they were produced in a sort of line-up today in Mumbai. Minus their AK-47s, they looked less potent than their at-sea avatars. The 15 men, many of them Somalian, are pirates captured over the weekend off India's coast.
There were 25 pirates originally and they trespassed into Indian waters at 10.30 am on Friday and tried to hijack a container ship off the coast of Lakshwadeep.
The target ship's call for help was picked up by a Coast Guard aircraft. The Indian Navy's INS Cankarso pitched in for a 12-hour battle. Ten pirates were killed and their hostages - 20 fishermen from Thailand and Myanmar were rescued.
One of them said today, "I thank you Army Indian. I thank you, Cankarso. I happy very much going to Thailand."
The youngest of the arrested pirates is 20 years old. The group has told the police that they were recruited by a gang of pirates who said new recruits had to bring their own AK47s - easy to find and relatively inexpensive in the Somalia black market.
India is not yet clear on how to try these men. Ten Somali pirates are awaiting trial in a Kochi jail, in the absence of any international law to try pirates.