Chennai:
Amidst piles of calendars flooding the stationary market across the country, a series of twelve achievers with disabilities stand tall in a calendar highlighting their feats in stunning stills.
The models in the calendar, titled 'I'm special', from across India battle a form of neurological disorder in their lives and come from various fields including sports, music, dance, education, wildlife, motivational speaking among others and.
'I'm Special' is the brain child of communication specialist-turned-model J Swarnalatha. She also featured in one of the months in the special initiative. She compiled the photographs sent to her by those featured in the calendar.
The, 37-year-old, affected with primary progressive multiple sclerosis, features in the calendar in the month of March, beaming in a red dress holding colourful candles.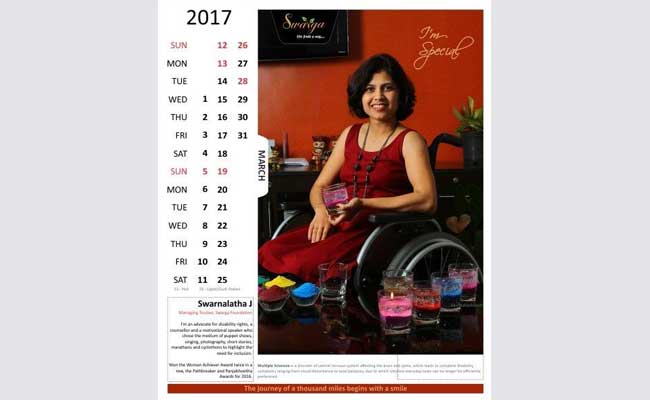 Ms Swarnalatha says the calendar made her feel like a supermodel. She added: "It's a source of inspiration not only for people with disability but also for normal people." It says, if people like them can do it what's stopping us. I have begun to love myself more after this experience."
Also featuring in it, motorbike enthusiast, Lalith Kumar Natarajan, 37, quipped: "I felt happy to see my picture. I look handsome".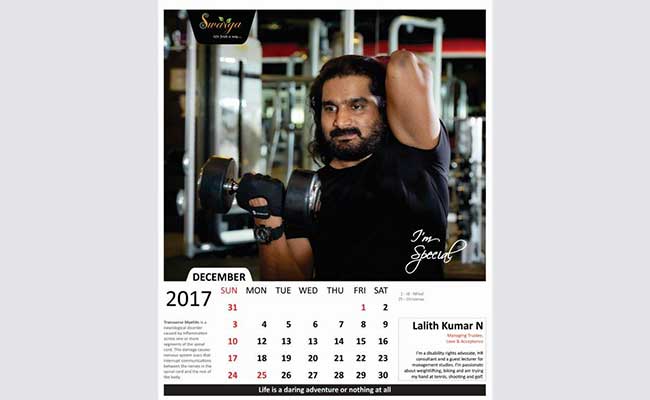 Swarnalatha's project helmed by her own Swarga Foundation isn't just for optics but also funds utilities for people with disabilities and hopes to widen their horizon.
Featuring S Suraj Kumaar, 42, Managing Trustee, Discover Wild Foundation said: "Every person has a right to dignity. We see this vehicle as dignified way of living. "
Funds raised from their maiden calendar project last year helped the organisation design a disabled-friendly van with a built-in toilet that cost 16 lakh rupees. This vehicle serves the 80,000 people with disabilities in Coimbatore at a nominal cost. For the poor it's free.
This year they are hoping to make Coimbatore's civic schools accessible to the disabled.
Priced at Rs 300, already 2500 pieces have already been sold till today.