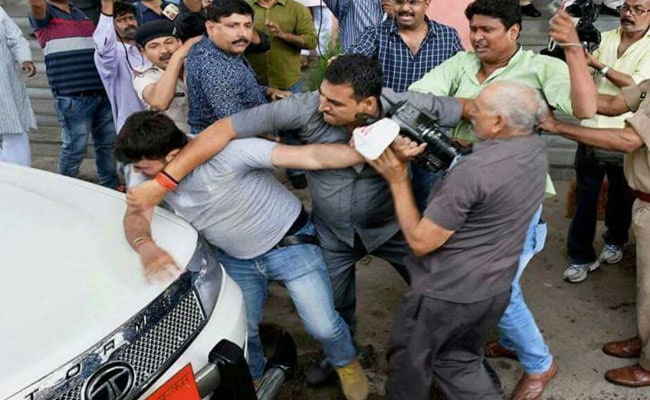 Patna:
Tejashwi Yadav, Bihar's Deputy Chief Minister, has in a Facebook post clarified that his security guards did not assault journalists outside the Bihar Secretariat in Patna as he stepped out after a Cabinet meeting. It was competitive reporting that led to the fracas, he said, complaining that "there were moments when around ten mikes were about to hit my nose."
The 28-year-old politician faces corruption charges and was being sought by reporters for his stand on an ultimatum by his boss and Chief Minister Nitish Kumar for his resignation. Mr Yadav reiterated defiantly that he would not quit over allegations from when he was "just a boy who hadn't even sprouted a moonchh".
On Facebook he has said, "I totally understand know how difficult is their job, specially the cameramen. They were falling & competing with each other. Couple of media person were putting mike behind me & brushed my ears & head also. There were moments when around ten mikes were about to hit my nose (sic)."
As Mr Yadav emerged from the Secretariat after the meeting, scores of waiting mediapersons rushed towards him. It is at this time that a cameraperson accidentally hit one of Mr Yadav's security personnel who along with a colleague reportedly dragged him down the stairs of the Secretariat and assaulted him. Some mediapersons who tried to intervene were also manhandled.
Tejashwi Yadav, who is the son of Bihar heavyweight Lalu Yadav, denied reports that the scuffle happened on his instructions as "undesirable, baseless & meaningless" and also promised to "personally look into the matter & get it investigated."
Yesterday's cabinet meeting was Tejashwi's first meeting with Nitish Kumar since the Yadav family was raided last week by the CBI over charges that as Railways Minister, Lalu Yadav exploited his position to acquire three acres of land in Patna at dream rates. Tejashwi is also one of the owners of the land, where a mall is being built.
Mr Yadav has argued that as a 13 or 14-year-old
, he was too young to be an accused in the case. Like his father, he has alleged that the charges against him are part of a political conspiracy by the BJP.
CBI sources have said Tejashwi Yadav was made an accused in the case "not because of what his father did as minister, but because he, along with his mother, took over a company that owned the land in 2014, when he was 24".
Earlier this week, Nitish Kumar said he would not compromise with his principles or his resolve of
"zero tolerance on corruption,"
indicating to his ally Lalu Yadav that the only way their ruling alliance in Bihar can survive is if Tejashwi resigns.