Few cricketers have had the courage to see and experience what Yuvraj Singh has. From his phenomenal rise and then decline as a bowler, diagnosis of cancer and remission, and then a terrific comeback straight to India team as Batsman at No. 4, Yuvraj Singh's story is worth listening to. This long running cricketer of the Indian team has been shocking players from across the world with his triumphant sixes and humble fours. Today, on the day of the India V Pakistan final cricket match, we tell you his secret. Behind this curtain of fame, Yuvraj has dedicated his hours to long and tough sessions of workout, to get into a shape that is required of a cricketer in Team India.
So what's the secret?
Running! According to Yuvraj, "It's important in any sportsman's life. To remain fit and to keep improving, you have to run. It's also the best form of fitness." To boost his lung capacity post cancer, Yuvraj says he relied extensively on running. He included high speed sprints and long jogs in his workout to accustom his body to the changing requirements while you are on the field.
"Chemotherapy had hurt my my lung capacity, so running was something I did every single day for over eight months, and I'm finally feeling good," says the cricketer.

Also read: India Vs Pak: 5 Things Virat Kohli Is Doing To Score A Century; Diet And Exercise Tips


Apart from this, Yuvraj is regular with on field exercises like foam rolling and activations. This is usually followed by mobility exercises, dynamic stretching, cricket specific movements and drills, agility drills and sprints. All of this is in addition to the 4-hour cricket practice that includes batting, bowling and fielding. The cricketer ends his workout with weight training that includes pull-ups, push-ups, bench presses, dumbbell rows/cable rows, squats, dead lifts and lunges and some core training. This is followed by a recovery session of swimming or ice bath.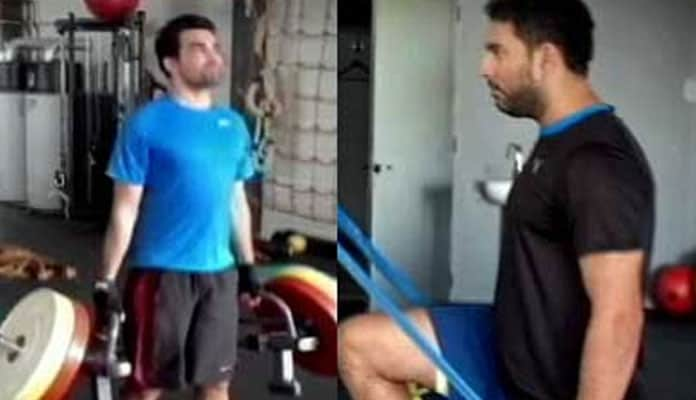 Yuvraj's diet typically consists of cereals, milk, eggs, fibrous fruits with a lunch that is high on proteins and balanced with carbohydrates.
Catch this Sunday's ICC Champions Trophy final between India and Pakistan to see what Yuvraj Singh has in store to ace the big game.