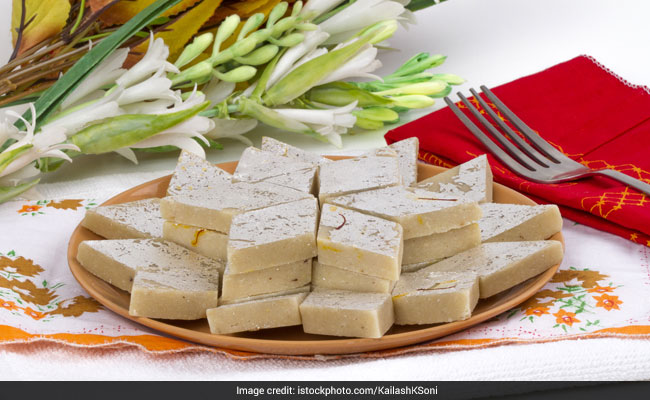 Highlights
Cashews have cholesterol reducing properties
People with high blood pressure can have kaju katli
Cashews are rich in protein
Kaju Katli is one of the many reasons why we are completely in awe of Diwali! Made from the super healthy cashews, kaju katli is definitely the most delightful part of Diwali celebrations. While many people prefer preparing kaju katli at home, others buy them in abundance from sweet shops since it is one of the most delicious Diwali mithais. According to celebrity nutritionist Rujuta Diwekar, you must eat Diwali mithais, guilt-free. As part of her happy, healthy Diwali series on social media, she suggested that it is important for the family to come together and prepare Diwali delicacies, while sharing the common traditions and rituals of the festival with children and younger generations. Read here to know more about why you must be eating Diwali sweets like Kaju Katili, guilt-free, without worrying about weight gain or compromising on your health.
Following are many health benefits of kaju katli and why you must eat them guilt-free this Diwali
1. Cashews can help in keeping blood pressure under control
Yes people with high blood pressure too can have cashew rich kaju katli on this Diwali! You may wonder why... Well, for the sole reason that cashews have nearly negligible amount of sodium. This, however, is only for the unsalted version of cashews. What's more is that cashews contain a fair amount of potassium, which further helps in controlling blood pressure.
Also read: Diwali 2018: Top 3 Detox Tips For Restoring Good Health After Diwali Festivities
2. Cashews have cholesterol reducing properties
Now this is on the condition that you don't go overboard with consumption of kaju katli on Diwali. Cashews are rich in good fats like omega-3 fatty acids and other unsaturated fats like oleic acid, both of which are good for health. These fats can help in reducing bad cholesterol in the body.
3. People with diabetes can have kaju katli
Yes, because nuts have a low glycemic index. Magnesium-rich calcium can help in lowering risk of diabetes.
Also read: This Diwali Do Not Compromise On Your Health: Eat These Foods Which Can Help Fight Fatigue
4. Cashews are good for heart health
Cashew-rich homemade kaju katli are good for heart health as far as you consume them in a healthy way and avoid overeating. Unsaturated fats and omega 3 fatty acids in cashews help in lowering triglycerides levels, which help in keeping your heart healthy.
Also read: Love Diwali Delicacies Like Chakli, Kachori And Matthri? Read What Rujuta Diwekar Has To Say About Them
5. Protein-rich cashews can improve strength
A 100 gm of cashew contains somewhere around 36% of your daily recommended intake of protein. Protein is a nutrient which acts as the building block of cells, and is important for overall growth and development. Cashews also contain magnesium, which helps in absorption of calcium in the body. Including cashews in your diet can be good for your bones and muscles, thus improving strength.
Diwali celebrations last nothing more than 3 or 4 days. Mithais like kaju katli are usually eaten along with meals during Diwali festivities. Consumption of traditional foods according to the season helps in maintaining healthy gut bacteria and improves digestion.
Wishing everyone a very happy and healthy Diwali to everyone!
Disclaimer: This content including advice provides generic information only. It is in no way a substitute for qualified medical opinion. Always consult a specialist or your own doctor for more information. NDTV does not claim responsibility for this information.