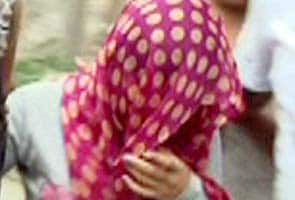 Guwahati:
Citizens of Guwahati, under the aegis of several activist groups and NGOs, braved the rains today to register their protest and anger against the Assam government, police and the media on the recent molestation case.
Hundreds of people gathered at the Dighalipukhuri area since morning and later took out a rally demanding immediate arrest of all the culprits and ensuring justice to the victim.
Nari Nirjatan Aikya Mancha, Nari Mukti Sangram Samiti, Krishak Mukti Sangram Samiti, India Against Corruption, Bharat Swabhiman and several other NGOs participated in the rally.
The protesters said they were scheduled to meet the three members of the National Commission of Women (NCW), currently in the city to probe into the case, but they "refused" to meet the protesters.
"The members had assured us that they would come to the rally site to meet us but even when we went to meet them at the hotel the police said that they had already left," RTI activist and KMSS Secretary General Akhil Gogoi.
The protesters were demanding protection for women, immediate action against all the culprits, action against police for their alleged delay in coming to the aid of the people and action against a journalist of a local news channel for allegedly instigating the attack.
Nari Nirjatan Aikya Mancha Convener Sumitra Hazarika alleged that the government "has failed miserably in tackling this issue. It reacted very late and it is answerable not only to the people of Assam but to the entire nation".
Law and order mechanism has completely failed to provide security to women as is evident from the molestation of the girl on the streets of Guwahati and the attack on a woman MLA of the ruling party inside a hotel with many culprits of both cases still remaining scot-free, prominent women activist and convener of NGO 'Prithvi', Akashitora said.
"We always took pride in the fact that women enjoyed a better status in Assam but recent incidents have been a blot on our society," she said.
The activists pointed out that the main culprit was still absconding. "We have information regarding his movements and have informed the police accordingly but no action has been taken to arrest him", they averred.
Referring to the alleged role of the journalist of a local news channel in the molestation case, Sumitra Hazarika said they wanted legal action against him.
Meanwhile, youths of different colleges and educational institutions in Assam, campaigned on the social networking site Facebook against the incident and decided to organise a rally in Guwahati today, a member of the group Dihang Pujari said.
The youths, under the aegis of Music and Peace Organisation and Facebook community, gathered at the incident site on GS Road and took out a rally till Ganeshguri this afternoon to protest against the molestation.