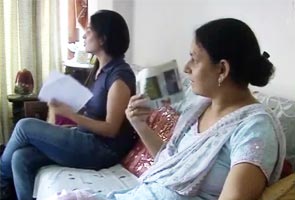 Gurgaon:
It has been a cruel summer, quite literally, for the Tejwanis in Guragon. If the exceedingly hot and humid conditions weren't enough, the family has had to battle prolonged power cuts. For over a fortnight, they have had little or no electricity, which has translated into no water and consequently, no peace of mind.
"We have just had enough...there is no water in the toilets, none to wash with and none to drink...kids get cranky, we get annoyed. What are we supposed to do?" says Varsha Tejwani. As they spend the harrowing days and sleepless nights, the only route of escape from this unending misery - the cool confines of their air-conditioned car where Varsha's daughter studies.
"I have to prepare for exams, but there is no electricity...we haven't slept all night. Even our coaching class has no electricity and classes are getting cancelled," says Shilpa Tejwani.
The Tejwanis' are just one among several families in Gurgaon and across the National Capital Region (NCR) which are sweating it out in the hottest summer in decades. With the mercury hovering constantly over the 40-degree-mark and with the rains nowhere in sight, parts of Gurgaon have been experiencing outages for nearly 20 hours a day. Pockets of Ghaziabad and Noida are also witnessing power cuts for 8-10 hours daily while Faridabad, too, is no better with electricity gone for upto seven hours.
Even as angry and hapless residents are left to deal with this torture, power authority officials still contend that Delhi and its surrounding areas are better off vis-a-vis the rural areas nearby.
In the face of the unprecedented heat wave, the demand for power in Delhi and the NCR has surged to a peak of 2,17,000 megawatt. The current power generation, however, is just 1,99,877 megawatts, thus, resulting in a deficit of 15-20%. What is more worrying is the fact that around 30 power stations have just about a week's coal left to fuel the power plants, according to the central electricity authority,
But experts say that it's utter mismanagement on the part of the authorities that has contributed to the crisis.
With no help forthcoming from the government, it seems the rain gods are the only hope for the residents.
Get Breaking news, live coverage, and Latest News from India and around the world on NDTV.com. Catch all the Live TV action on NDTV 24x7 and NDTV India. Like us on Facebook or follow us on Twitter and Instagram for latest news and live news updates.