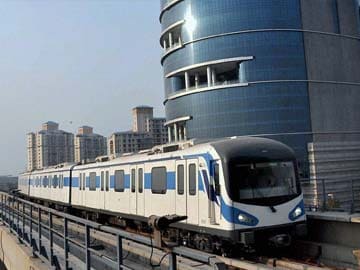 Gurgaon:
The country's first private Rapid Metro on Wednesday announced that it would provide services to commuters starting on Thursday.
Making a change to the landscape of Gurgaon, Rapid Metro Gurgaon connects Delhi Metro from Sikanderpur Station in Gurgaon, using a common ticketing system.
Sanjeev Rai, MD & CEO, IL&FS Rail Limited, announced the start of commercial operations of India's first fully privately-financed, developed Metro System, which has been launched in the public-private partnership mode.
Rapid Metro, with an elevated route and six stations (currently five stations), with a frequency of every four minutes, can carry 800 passengers in each trip.
It will open on Thursday at 6 am, and services will operate till 12:20 am past midnight.
The launch of Rapid Metro Gurgaon will boost connectivity within Cyber City, which is the corporate and the retail hub of Gurgaon -- nearly one lakh people work or visit the hub each day.
"It is expected that about 30 per cent of existing road traffic will move to Rapid Metro, thereby reducing travel time and traffic jams for commuters on NH-8 (Delhi-Gurgaon expressway)," Sanjeev Rai said.
Rapid Metro, connected with 140 stations of the Delhi Metro Rail Corporation with a common ticketing system, has been constructed at a cost of nearly Rs.1,100 crore and took 30 months to reach the present stage.
The Haryana Urban Development Authority (HUDA) provided land for the rail track.