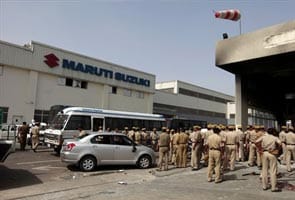 Gurgaon:
A Gurgaon court today framed murder charges against 147 jailed Maruti workers allegedly involved in the July 18, 2012 violence at Manesar car plant in Gurgaon that left a company executive dead and 100 others injured.
All the accused would be tried for murder. The next proceeding in the case is scheduled for September 9.
A Gurgaon court framed charges of murder, attempt to murder, arson, rioting and unlawful assembly, among others, against all 147 dismissed workers of Maruti Suzuki India Limited (MSIL) arrested in connection with the violence at the car maker's plant.
MSIL general manager Awanish Kumar Dev was killed and nearly 100 people injured in the violent clash on the plant premises. The company dismissed more than 500 regular workers after the incident.
As many as 147 sacked workers were arrested. They were in judicial custody since then.
Family members of the dismissed and arrested workers gathered outside the judicial complex as the case came up for hearing.
Additional District and Sessions Judge SK Khanduja charged 12 office-bearers of the Maruti Suzuki Workers Union (MSWU) substantively for murder, while the remaining 135 workers were charged for murder in view of being part of an unlawful assembly.
The judge maintained that murder charge could be dropped against the remaining 135 accused based on the merit of evidence against them during the trial. All the accused, who were present in the court, pleaded not guilty to all the charges.