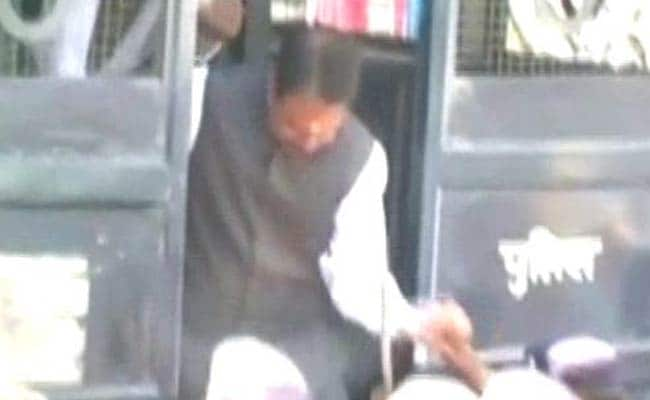 New Delhi:
The Supreme Court today directed doctors of a super-speciality hospital in Uttar Pradesh, to furnish a report whether Uttar Pradesh politician D P Yadav, facing life term in a lawmaker's murder case, was fit to undergo spinal surgery. The court has also cautioned him against taking any "undue advantage".
Yadav was awarded life imprisonment by a Dehradun CBI court in 2015 for his role in the murder of Mahendra Singh Bhati, a lawmaker from Ghaziabad's Dadri area. Bhati was shot dead in December 1992.
A bench headed by Chief Justice Ranjan Gogoi, which had earlier granted an interim bail for 15 days to Yadav for undergoing pre-operation tests, today took strong note of the fact that the tests have not been done as he was having viral fever and warned that it would send him to jail.
"Please don't take undue advantage. We will send you back to jail. We do not want to comment on the doctors. You are having viral fever and what are you taking -- Paracetamol and Betadine," said the bench, also comprising Justices S K Kaul and K M Joseph.
The bench, which has now fixed the matter for October 12, said the doctors of Yashoda Superspeciality Hospital, in Ghaziabad, would certify the said fact that Yadav was fit to undergo spinal surgery and then appropriate orders will be passed.
It also said if doctors say that he was not fit for the surgery, the accused will then have to go back to jail.
The bench said that it would grant bail to Yadav once the doctors fix the date of surgery.
Yadav, whose appeal in the Uttarkhand High Court against the 2015 trial court verdict is pending, had moved the top court for grant of bail for undergoing the surgery.
But in June this year, the High Court had rejected Yadav's bail plea.
The top court, on September 18, granted interim bail for 15 days to Yadav on a condition that he will get himself admitted as in-patient in Yashoda Superspeciality Hospital for the requisite pre-operative checks.
It had also asked him to deposit a bail bond of Rs. 1 crore and two sureties of like amount for getting the interim bail.
Besides Yadav, the others convicted in the case by the trail court include Pal Singh, Karan Yadav and Praneet Bhati for offences of murder, attempt to murder and criminal conspiracy of the IPC in the murder case.
The case was transferred to CBI court at Dehradun in the year 2000 on the direction of the Supreme Court after doubts were expressed about a fair trial in the case in Uttar Pradesh.