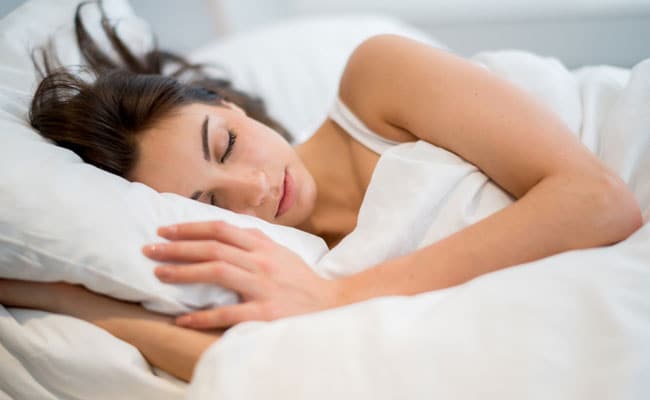 It is the world sleep day today. World Sleep Day is an annual celebration of importance of sleep in everybody's lives. This year the slogan for World Sleep Day is to 'Join the Sleep World, Preserve Your Rhythms to Enjoy Life'. According to experts, one should ideally sleep 7.5 to 8 hours a day. The condition where people have persistent problems falling and staying asleep is called insomnia. An ongoing study at the WellSpan York Hospital in the US to assess the impact of "Heartfulness Meditation" on insomnia has shown promising results for chronic insomniacs.
For the study, twenty-eight participants diagnosed with chronic insomnia completed an eight-week study involving the practice of "Heartfulness Meditation" as an intervention to help with insomnia.
The researchers then measured the pre- and post-Insomnia Severity Index (ISI) scores. "The mean ISI scores reduced almost by half. Interestingly, some patients were able to come off their pharmacological treatments as a result of the practice," the study claimed.
The study explored the benefits of meditation in inducing sleep. "Heartfulness Meditation" is a simple heart-based meditation practice that helps with stress, burnout and emotional wellness.
Those experiencing a crunch in time could practice the simplified Raja Yoga meditation techniques of "Heartfulness" which is designed to suit modern-day hectic lifestyle and are effective in improving sleep and quality of life when practised regularly.
Over a million people in 130 countries are estimated to be practising "Heartfulness Meditation".
Daaji (Kamlesh Patel), the fourth global guide of "Heartfulness", believes sleep is essential to help maintain mood, memory and cognitive performance."Daytime alertness and memory are impaired by loss of sleep, especially when it is sustained over a few nights. For many, meditation has become a mainstream practice over the years and the study on its impact on alleviating sleep-related diseases is very encouraging," he said.
Lack of sleep or insomnia can result in irritability, drowsiness, fatigue and sulkiness. It can also take a toll on your mental focus which may further impact your daily activities and work commitments. In worse cases it can also lead to depression. Insomnia can be short term, or chronic and long term lasting from a few days to months.
The cases of insomnia are at an all -time high. People due to factors like stress, lifestyle habits an dietary choices are encountering the condition in increasing numbers. Treatment options include both pharmacological and non-pharmacological measures. Pharmacological treatments may be associated with significant adverse effects.
In adults, sleep disturbances lead to a wide range of health problems such as diabetes, cardiovascular disease, anxiety, depression, early aging, alcoholism and other substance abuse.
Children are not spared either. Sleep problems are also prevalent among children and teenagers due to their growing internet addiction. Children are spending more and more times in front of screens, which is taking a direct toll on their quality of sleep.
Several studies have shown that meditation can fight insomnia and improve quality of sleep. Several studies have also noted, how meditation augments the synthesis of melatonin in the pineal gland, a hormone that regulates the natural sleep cycle. Stress inhibits the production of melatonin.
Meditation also regulates the mind, directly reducing anxiety and depression.
Here's how Ayurveda could help:
Those who suffer from sleep problems or mild insomnia can turn to Ayurveda to treat the problem and get proper sleep. Ayurveda expert Vasant Lad in his book, 'The Complete Book of Ayurveda Remedies' suggests some ways in which your diet can help you battle insomnia and sleep better:
1. Try warm milk just before turning in. Add a pinch of nutmeg, some cardamom and crushed almonds.
2. Try garlic milk. Mix together 1 cup of milk, 1/4 cup water, and 1 clove of fresh, chopped garlic. Boil until 1 cup liquid remains. Consume.
3. Regular consumption of cherries has also been linked to inducing good sleep.
4. You can also try consuming a cup of fresh tomato juice with 2 teaspoons of sugar and a pinch of nutmeg. Consume this around 4-5pm in the noon and have an early dinner.
You can also try herbs like brahmi, ashwagandha, Shankhpushpi and jatamasi to sleep better.
(With Inputs IANS)