Highlights
Sesame seeds are one of the most popular winter foods out there
Sesame seeds are used in a number of desi preparations
Til Ladoo, til barfee and other recipes you'd love to try
Winters have come knocking at our doorsteps and all across the world people are prepping for the cold weather in different ways. On the Indian subcontinent as well, quilts and woollens are out, especially in the northern parts of the country. 'Warm' is the buzzword of the season and when it comes to keeping warm, it's not just what you wear on the outside that matters - what you consume is equally important. Warming foods, spices and drinks have started making appearance on menus and dining tables around the country, and while we're all aware of the usual suspects like ginger or adrak and cinnamon or dalchini, there are some lesser known warming foods that we might give a miss during winters. Sesame seed, or til, is one of these foods, which is used in a number of winter sweets. Although we all know that white sesame seeds are very nutritious, do you know the reason that why they're present in a number of winter dishes?
Sesame is one of the oldest plants and is one of the oldest oilseeds known to us. It is native to India and has been used in a number of desi preparations. But winter is the best season to consume til or sesame seeds because they're full of good fats, and hence, are naturally warm and life-giving. A number of traditional foods served on winter festivals like Lohri and Makar Sankranti have til seeds in them. Sesame seeds are associated with longevity and prosperity in religious lores. Ayurveda has also prized these seeds because of their warming capacity, which is why they are also used in making rewari, gajak, til gul ladoos, etc.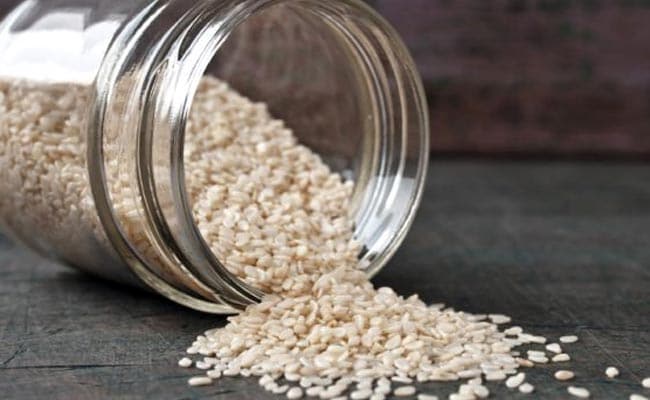 Sesame seeds for winters: It's prized in Ayurveda for its warming properties
So, now that we know that their presence in desi winter foods isn't just an accident, here are some recipes to help you include more sesame seeds in your diet, during winters:
The most obvious choice of homemade sweets for your grandmothers and mothers is the til ka ladoo, which is invariably prepared during winters. Here's an easy recipe guide to help you make these packets of nutrition at home.
Till patti or till ke barfi is like a sweet candy bar that makes for a delicious and incredibly addictive sweet during winters.
A popular dinner main, pulao can be made more nutritious by adding white sesame seeds to them. Here's a recipe you'll want to make again and again.
4. Spinach Salad with Sesame Dressing
Surviving on a diet of veggies and salads to lose weight? This is the perfect salad option with the goodness of sesame seeds in it.
A protein-filled dish combining the nutrition of veggies with the satiating and warming punch of sesame seeds, this Asian sesame chicken salad is going to become your new winter favourite.
Sesame seeds are rich in calcium, good fats, fibre and a number of essential minerals and vitamins, which are great for the hair, skin and overall health. So, go ahead and incorporate these healthy seeds in your diet!