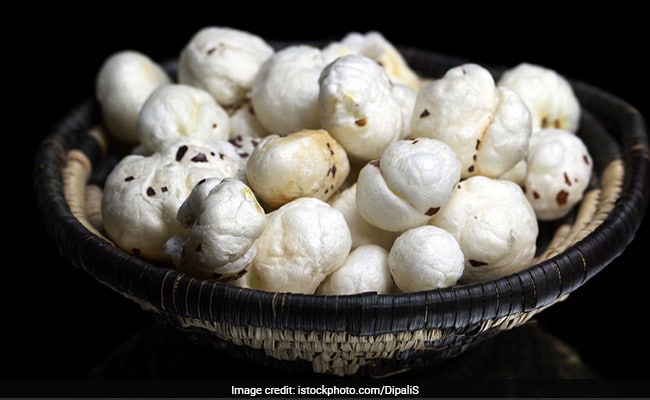 Chaitra Navratri has started from 6th April, 2018, and people from Hindu community are celebrating this nine-day long festival with much fervour. In Hindi, Navratri translates to 'nine nights', which is celebrated to worship the nine divine forms of the Goddess Durga. It is said that during this period, devotees please their beloved deity with abundant prayers, bhog and the ritualistic fasting. Devotees refrain from eating non vegetarian food and drinking alcohol during these auspicious days. They also don't prepare their food with regular ingredients like maida, atta, besan, lentils and legumes. Onions and garlic are also kept away from the preparation of the special vrat ka khana. Vrat ingredients like kuttu (buckwheat), samak ke chawal, singhara atta, potato and sweet potato are extensively used for the special vrat food.
The Navratri vrat may get a tad monotonous with the same ingredients and somewhat similar preparations. Therefore, Navratri namkeen is a great way to break through the monotony. It is also a great way to satisfy the mid-meal cravings. Besides, anything home-made is always a better alternative to the store bought versions, as one can never tell how fresh the packed food is or the quality of ingredients used.
Making Navratri namkeen at home is very easy and quick to prepare. You don't need too many ingredients to make these namkeen in your kitchen. You can customise your namkeen as per your liking. You can pick the ingredients you want and leave the ones you don't like.
Here's how you can make your own Navratri namkeen or trail mix at home:
What Would You Need
1. Sabudana/sago (preferably big granules)
2. Makhana or lotus seeds
3. Thinly sliced strips of coconut
4. Dry fruits (cashew, almonds and dried apples)
5. Peanuts
6. 1 tablespoon of rock salt (sendha namak)
DIY Navratri Namkeen In A Few Simple Steps
Step 1. Soak your sabudana in a bowl and keep them aside.
Step 2. Take a pan, add a spoonful of vegetable oil. Set the flame on gas to medium.
Step 3. Roast the makhanas for about 2-3 minutes, till it turns golden brown. Take them out in a bowl and keep it aside.
Step 4. Take the same pan; roast some peanuts till they turn golden brown. Take them out in a bowl and keep it aside.
Step 5. Take all the dry fruits like cashew almonds and chopped coconut, and roast them gently for 1-2 minutes. Once roasted, take them out in bowl and keep them aside.
Step 6. Take out your damp sago and roast them in 1 tablespoon of oil.
Step 7. Take a bowl, and add all the ingredients together. Sprinkle over some vrat-favourite, sendha namak. You can also add a pinch of cumin powder for some more flavour.
Your vrat-friendly Namkeen is ready to enjoy. Take an air-tight container and store the namkeen that you are not having immediately.
The best part of this namkeen is that you can alter the ingredients as you like. If you are a makhana fan, you can increase the quantity of makhanas, or if you don't fancy peanuts, you can avoid it completely. Make sure all ingredients that you are using are in the permissible range of Navratri vrat ingredients.
Here's wishing you all a very Happy Navratri 2019!