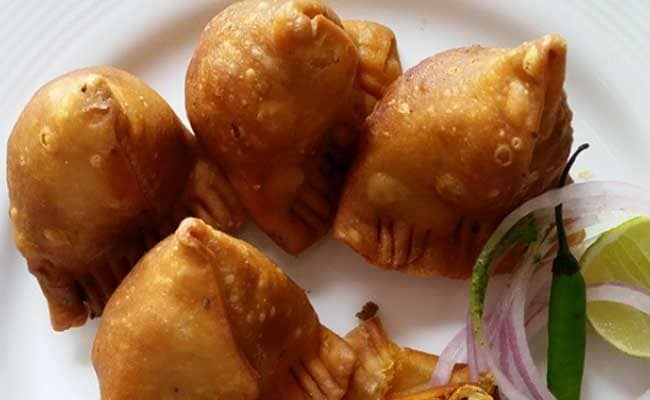 Highlights
National Samosa Week will be celebrated from April 9 to 13.
Six UK cities will be hosting National Samosa Week.
The event will have samosa pop up shops, eating contests, etc.
Samosa
is a mood-food like nothing else, and one of the most loved fried snack that Indians swear by, in any season and on any day. It has also achieved global stardom, with some of the best Indian restaurants around the world, featuring the crispy, savoury snack. If anyone needed any doubts about samosa's international star food status, it will be laid to rest next month, when six cities in the U.K. will celebrate the National Samosa Week! The Week will be a time for endless 'samosa loving' for fans of the snack.
The event starts today and will end on 13th April, and all the money collected during the event will be used for charity. The National Samosa Week was conceptualised by Romail Gulzar - a Leicester-based media personality. The event will be organised in Birmingham, Manchester, Coventry, Nottinghamshire and Radlett, and will have activities like pop-ups of popular samosa shops, samosa eating contests, best samosa awards, etc.


Also Read:
This Crispy Japani Samosa Is Chandni Chowk's Hidden Gem
So, if you're planning to travel to the U.K. anytime soon, it should be during the National Samosa Week! Usually, the samosas are stuffed with a spicy potato, onions and peas filling, but it has been experimented widely. Nowadays, non-vegetarian variants of the crispy snack have also become very popular, with the keema samosa being a hit with meat lovers. Although, it's a very popular and classic snack, it's not very easy to make the perfect samosa.
The team are gearing up for next weeks #NationalSamosaWeek! Who's excited? Join us at @chutneyivy on Monday 9th April and enjoy a tasty #samosa... or 2! Or if you're feeling very hungry, why not take part in the Man vs Samosa #challenge. #Leicester#Charitypic.twitter.com/Qj2QCY0JEl

— National Samosa Week (@SamosaWeek) April 6, 2018
National Samosa Week: Here are the three things that make a perfect samosa:
1. The Outer Covering
What makes the samosa so tempting and hard to resist is its crunchy outer covering, which can be made from any flour. The most popular flour used to make samosa covering is refined flour. But, a samosa loses its charm if it's chewy instead of crunchy. Of course, the freshest samosas are the crispiest, so it's best to munch on them while they're hot.
2. The Filling
Samosa is wonderfully versatile - you can stuff it with literally anything, and it will still taste as amazing as ever. However, making the filling too spicy or too bland kills the taste. So, a carefully spiced stuffing that is neither too strong, nor too plain, is the trick to making the perfect samosa. Most importantly, flavouring a samosa stuffing with elaichi or cardamom seeds is akin to a cardinal sin!


Also Read:
8 Innovative Samosa Fillings to Make Snack Time a Lip-Smacking Affair
3. The Folding
One of the main attractions of the samosa is its beautiful shape that comes only if you have folded the dough correctly after stuffing it. A samosa should be as much a visual treat as it's a treat to the palate. A perfect samosa will never have too much stuffing and will always have a perfectly triangular shape, with all its ends sealed well and cooked until they're golden brown.
Samosa is a food that is very well travelled. Contrary to popular belief, the samosa was never invented in India, and has rather travelled to the South Asian country from the Middle East. Well, wherever it has come from, it has held a special space in the hearts of foodies worldwide and the National Samosa Week is just a small testament to its enduring popularity.