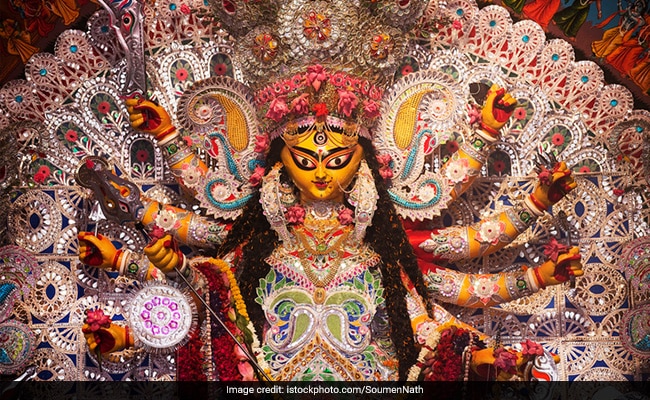 Durga Puja 2018 is around the corner and Bengalis around the globe are brimming with joy. Durga Puja is celebrated with much fervour and enthusiasm among Bengalis, the preparations for which begin months in advance. Hopping pandal to pandal to see the beautiful clay idols of Durga and cultural festivals, dressing up in your finest clothes and gorging on to your favourite foods with friends and family, it would be fair to say that Durga Puja celebrations are no less than a carnival for Bengalis. This year, Durga Pooja festivities are all set to begin by 14th October (Panchami) and would conclude by 19th October (Vijay Dashmi). Durga Puja celebrates the victory of Goddess Durga over buffalo king Mahishasura. Five days before the pujo, marks the homecoming of Goddess Durga on earth. The occasion is celebrated as Mahalaya. According to scriptures, Goddess Durga or Shakti is considered to be the daughter of earth. During Durga Puja she comes to her maternal home and is pampered like a daughter with her favourite chants, hymns, flowers and offerings. The significance of Mahalaya is that on this day Pitru Paksha ends and it marks the beginning of Devi Paksha. Devi Paksha is the waxing phase of the moon that comes in the month of Ashvin as per the Hindu lunar calendar. In East India, a common practice of tarpan in the holy Ganges is very popular in Mahalaya. People throng the holy river and remember their ancestors one last time before the beginning of Devi Paksha.


Durga Puja 2018: Significance of Mahalaya


At the heart of Durga Puja celebrations is the legend about Goddess Durga's triumph over evil Mahishasura. The folklore is often presented through different kind of art forms; be it through skit, recitation, or dance in various Durga Puja pandals. Goddess Durga is also called Mahishasura Mardini. When the holy trinity and all the gods of heaven found themselves incapable to defeat the demon king Mahishasura, they entrusted Goddess Durga and gave her their weapons to defeat Mahishasura and rid earth of his evil. In a battle that ran for several days, Goddess Durga finally severed Mahishasura's head with her Trishula and won victory over evil.
Listening to Mahishasura Mardini by Birendra Krishna Bhadra on radio, has been a popular tradition for the last 85 years. Bengalis across the world wake up in the wee hours of the morning to listen to Birendra Krishna Bhadra's poetic invocation.
Durga Puja 2018: When is Mahalaya 2018

This year the Amavasya ends on 8th October. Mahalaya tarpan starting time is 10.49 AM on 8th October and Mahalaya
tarpan end time is 9.08 AM on 9th October.


5 Foods We Cannot Wait To Binge On This Durga Pooja

1. Mutton and Vegetable Chops: Crisp on the outside and soft on the inside, mutton chop is heart-melting melange of flavours that can set any mutton lover's heart aflutter. There is an equally loved vegetarian variety of the cutlet too - veg chop and aloo chop.
2. Mughlai Paratha: The Mughlai paratha is a rectangular paratha made with white flour or maida which is folded like an envelope. The thin-layered, deep-fried paratha consists of a rich filling of eggs, keema (minced meat) and heaps of spices. It is served with onion salad and a potato subzi. There, we saw you slurping!
3. Kathi Rolls: Flaky thin paratha filled with meat chunks, minced meat or veggies teamed with an array of sauces. This filling and mouth-watering snack is an ideal companion for your pandal-hopping spree.
4. Ghugni: Ghugni is spicy, hot and oh-so-flavourful. Ghugni is a spiced chickpea or Bengal gram-based curry, which can be enjoyed by itself with masala and chopped onions. Some people also top it with minced mutton, which makes the snack even more wholesome and enjoyable.
5. Sondesh: You saw this coming, don't you? This iconic sweetmeat is made with sweetened cottage cheese, jaggery and flavoured with cardamom.
Here's wishing you all a very Happy Durga Puja 2018!