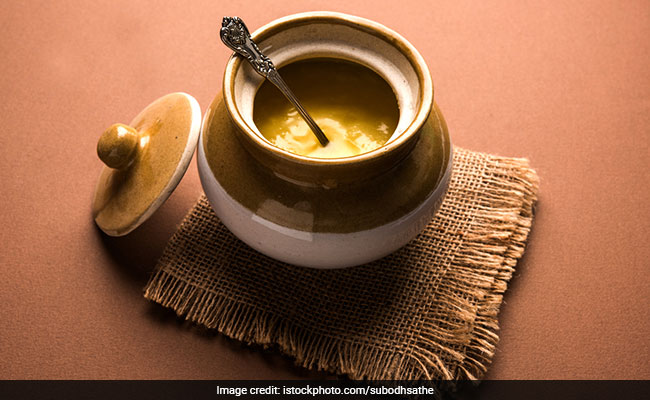 Diabetes may not be cured completely; however, devising an appropriate meal plan and engaging in physical activity is important to manage diabetes better. While there are many foods that may be considered as healthy when it comes to managing blood sugar levels, the debate over ghee or clarified butter doesn't seem to end. While many proponents claim that ghee is great for diabetics, some consider it unsuitable for them. Ghee has been considered the healthier alternative to most cooking oils that may be harmful for diabetics; however, the amount of fat it contains has raised quite some eyebrows in recent times. So, let's find out, of all things healthy, is ghee really the culprit for diabetics?
(Also Read: How To Make Ghee From Malai)
Ghee for diabetes
According to Macrobiotic Nutritionist and Health Coach Shilpa Arora, ghee is medicine for diabetes. The fatty acids in homemade ghee help in metabolising and balancing high blood sugar. Adding a teaspoonful of ghee wouldn't harm anyone. Prepare vedic ghee from cow's milk." Here's why ghee may be a good option for diabetics:
The linolenic acid in ghee may help reduce the risk of cardiovascular diseases that are said to be some of the complications in diabetics.
Ghee has high amount of good fat, which is considered healthy. It is known to help absorb nutrients from the food you consume. As per Nutritionist Shilpa Arora, "Adding ghee to the rice may help the diabetics to digest the sugar from rice effectively."
Adding ghee to high glycaemic foods may help reduce the impact of carbohydrates on your blood sugar levels.
Ghee helps smoothen the digestive tract and ensures a healthy gut. It helps relieve constipation and keep syour body healthy.
The presence of vitamins A, B and K along with other compounds in ghee help boost immunity, which is generally weakened in diabetics.
(Also Read: Is Eating Ghee In Summers Good For Health? Find Out!)
How to use ghee for diabetes?
Always ensure adding not more than a teaspoon of ghee to dal and rice or any other high carbohydrate food to ensure easy digestion of the same. Bring ghee into use instead of other cooking oils so as to reap maximum benefits. Make sure you do not consume ghee in excess as it may only reverse the benefits. Also, do consult a doctor before including it in your diet.
Disclaimer: This content including advice provides generic information only. It is in no way a substitute for qualified medical opinion. Always consult a specialist or your own doctor for more information. NDTV does not claim responsibility for this information.