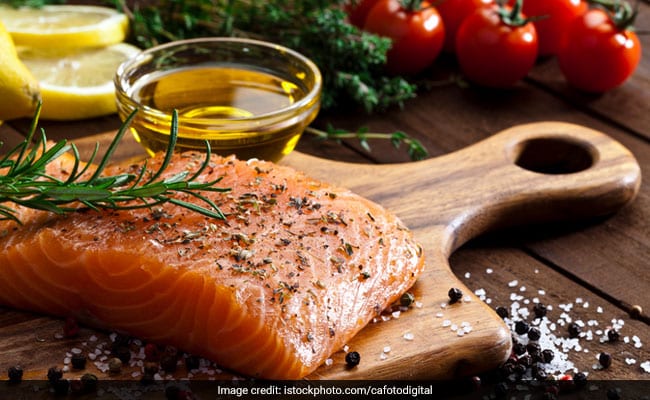 Consuming a gram of fish oil and including some spinach in the diet could help patients with osteoarthritis to ease their pain, and reduce the risk. Osteoarthritis is a joint inflammation that results from cartilage degeneration. It is a common disorder amongst the elderly which is marked by pain in joints, hands, hips and knees. The study published in the
journal Rheumatology
examined the link between diet and the effective self-management of osteoarthritis.
For the study, the researchers analysed 68 previous studies in the field. The findings revealed that a low dose supplement of fish oil (one and a half standard capsules) could result in pain reduction for patients with osteoarthritis and help improve their cardiovascular health.
According to the researchers, it is the essential fatty acids present in fish oil that can work a charm on the aching joints of the elderly. The fatty acids present in the oil reduces inflammation in joints,and alleviates pain. Foods rich in vitamin K such as kale, spinach and parsley were also found to deliver benefits to patients with osteoarthritis.
Our bone and cartilage contain vitamin-K-dependent (VKD) proteins which demands vitamin K for sustenance and optimal health. The working of the protein is adversely affected when the intake of vitamin is low. Bone growth and repair gets hampered thereby aggravating the risk of osteoarthritis
"The importance of a good diet and regular exercise should never be underestimated. Not only does it keep us fit and healthy, but as we have learned from this study, it can also lessen painful symptoms of osteoarthritis," said study co-author Margaret Rayman, Professor at the University of Surrey in Britain.
"We are what we eat and it is important that we have the right amount of nutrients from our food to ensure that our body systems work as they should," Rayman added.
In addition to monitoring your diet, reduction of weight for overweight and obese patients and engaging in exercises that promote mobility could also help ease the symptoms of osteoarthritis, said the researchers.
Obesity is one of the major risk factors for inflamed joints, which can result in osteoarthritis. A calorie restricted diet, combined with strengthening, flexibility and aerobic exercises, could prove to be an effective approach in not only reducing weight, but also the pain felt in joints, hips and knees.
There is no evidence that a calorie restricted diet does anything beneficial for lean patients with the condition, revealed the study.
Ayurveda too has many tips to heal joint pains. Here are some age old remedies that may help.
1. Dashmool
Dashmool
is a mix of ten medicinal herbs that are used to cure a variety of ailments.
Dashmool
literally translates to 'ten roots'; out of which five roots are of trees and five are of shrubs. These include
patala, gambhari, brihati, shalparni
and more.
Dashmool
or
Dashmula
is effective in inflammatory conditions in the body or Vata Rog. Its anti-inflammatory, anti-oxidant, analgesic and sedative properties help cure joint pain.
2. Eucalyptus
Eucalyptus oil makes for the most common herbal treatment for arthritis. The eucalyptus plant leaves contain tannins that may be helpful in reducing swelling and the pain arthritis causes. The aroma of eucalyptus oil is said to have calmative effects on the brain, while the oil relieves you from the pain and swelling in the joints.
3. Ginger
Yet another reason to store ginger in your kitchen cabinet. Ginger is known for its exceptional antiseptic properties that help reduce joint pain and swelling. It is also known to increase blood circulation, which brings heat and healing properties to the affected areas. You can drink ginger tea or apply ginger paste on your joints and can also apply a good quality essential oil.
(With Inputs IANS)