Easter would be celebrated on 31st March 2018
. Now that the Easter weekend is almost here, we cannot wait to feast on festive treats. Easter day is known as the day of resurrection of Jesus Christ, and is celebrated as the rebirth of Jesus. On this day, churches are decorated with flowers that represent new life, or rebirth; and candles are lit as a remembrance that Jesus is the light of the world. It makes one of the most joyous days for kids who love to paint eggs and decorate them in and around their homes. Remember, this Easter, use natural colours to dye eggs and ensure a safe and joyous day!
Easter 2018: Significance Of Easter Eggs On This Day
There are different connotations as to why we involve bunny and eggs in the celebration of the resurrection of Jesus. It is believed that rabbits usually give birth to a lot of babies (also known as kits or kittens), which symbolises a new life, connecting it to the new life of Jesus after he was crucified. This belief is said to have led to the traditions of making nests for the rabbits to lay their eggs. Eventually, this tradition turned into decorating baskets and colourful eggs along with candies, gifts and treats.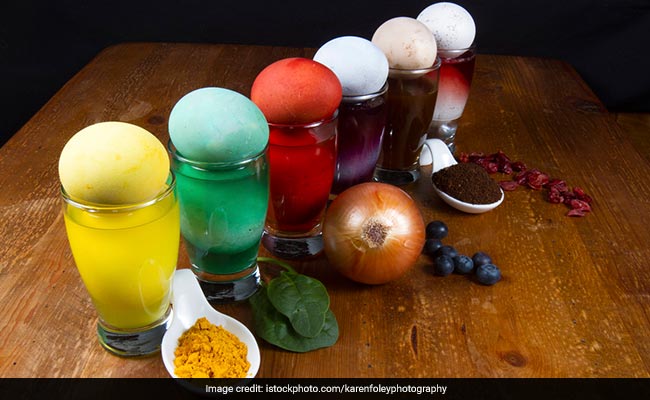 Easter 2018: There are different connotations as to why we involve bunny and eggs​

Easter 2018: How to Decorate Easter Eggs Using Food
If you are planning to decorate Easter eggs this year, these easy hacks will comes handy to you. Here's what you should do to decorate Easter eggs naturally.
First things first, avoid using synthetic food colour; instead choose natural foods to give these eggs beautiful hues of yellow, pink, green and red. The ingredients that you'd need are:
Red wine for a natural red colour
Beetroots for bright red or pink colour
Turmeric for yellow colour
Parsley or spinach for dark green colour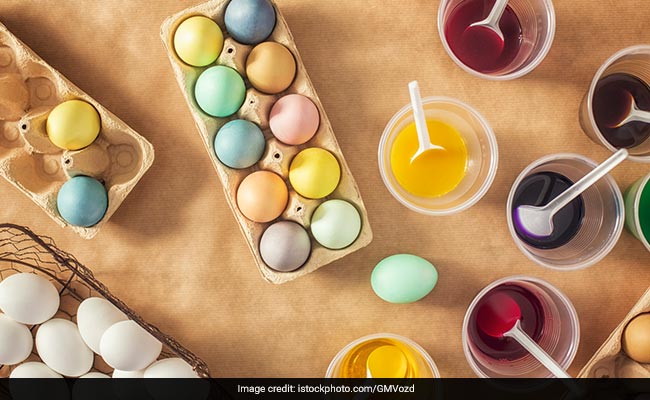 Easter 2018: First things first, avoid using synthetic food colour​

Step 1: All you need to do is boil all the eggs and allow them cool down.
Step 2: Boil all the ingredients, except red wine, in different saucepans till the water soaks their colour. Now take four clean containers with the boiled water in them.
Step 3: Add vinegar to the coloured water in all the containers; vinegar acts as a fixative to the water that may help the colour to last longer.
Step 4: In case of red wine, just add the drink in the container with some vinegar in it.
Step 5: Place equal quantity of boiled eggs in each container, and let them soak for a couple of hours. Keep checking till the eggs are coloured. Take the eggs out once done and let them dry.
Step 6: To make them more interesting and beautiful, just place the leaves of any plant on the egg and hold them with a muslin cloth.
Step 7: Place them in the coloured water for a couple of hours before taking them out to dry. You will see these leaves leaving an imprint on the eggs.
This Easter, make sure you choose natural and make it kid-friendly too!
Follow NDTV for latest election news and live coverage of assembly elections 2019 in Maharashtra and Haryana.
Subscribe to our YouTube channel, like us on Facebook or follow us on Twitter and Instagram for latest news and live news updates.