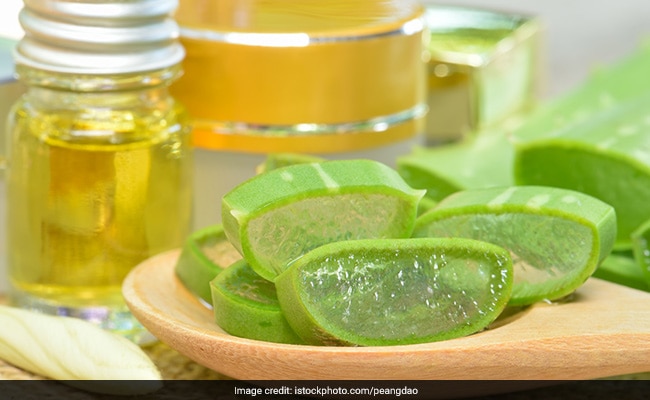 Aloe vera is extensively used in beauty products nowadays; thanks to its anti-bacterial and anti-viral properties and the ability to keep your skin and hair healthy. This humble cactus is known to grow anywhere and has strong survival instincts too. Known as ghritkumari, aloe vera is known to benefit skin and hair along with overall health and weight loss. The miracle plant tends to hold a gooey gel, also extremely bitter, and known all over the world for its unbelievable healing properties. The gel is made up of around 96 percent water, some organic and inorganic compounds, and many more vitamins and minerals that tend to take care of both skin and hair. One of the most crucial elements found in aloe vera is a complex carbohydrate known as acemannan. It allows nutrients to reach the cells, nourish them and relieve them of any toxin. Let us tell you how aloe vera helps keep your skin and hair healthy.
Aloe Vera For Skin And Hair
Aloe Vera for skin
Aloe vera can help exfoliate, restore and provide constant nutrition to human skin. Its soothing and cooling properties help keep the skin glowing. Moreover, it is said to heal minor cuts, wounds, et al. It is rich in vitamin C, E and beta carotene that gives it its nourishing and anti-ageing properties. Aloe vera tends to treat the cells on the epithelial level of the skin, which is why it is mostly recommended by beauty experts. The best way to use aloe vera is to apply the gel topically or drink aloe vera juice early in the morning on an empty stomach. We suggest, you should apply the gel directly on the skin and avoid using commercially bought products that claim to contain aloe vera gel.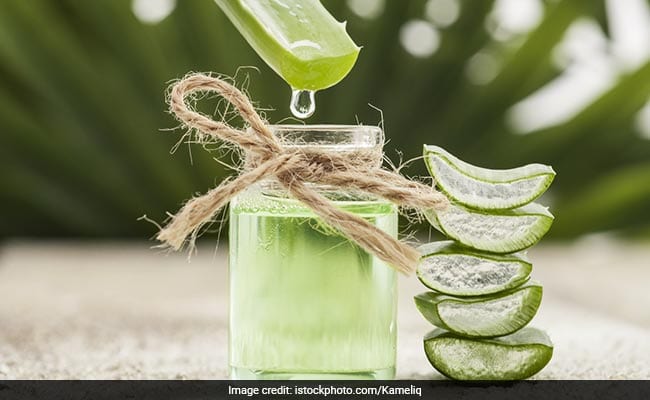 Here's how you can use aloe vera gel for skin
Take some aloe vera gel, add a pinch of turmeric, a teaspoon of honey, a teaspoon of milk, and a few drops of rose water. Blend the mix until you get a paste. Apply it and leave it for about 20 minutes before washing it off with water. This is best for people with dry skin.
To reduce acne, take some aloe vera gel, blended walnuts with a flour like consistency and honey. Aloe vera's healing properties doubled with the anti-oxidants from honey will leave you with smooth and clear skin.
Take some aloe vera gel, cucumber juice, yogurt and rose oil and blend them into a paste. Apply and leave for around 20 minutes, then rinse it off with water. This one's for a sensitive skin.
To make a scrub, take half a cup of aloe vera gel, a cup of sugar and about two tablespoons of lemon juice. The sugar will help exfoliate and scrub off dead skin, the aloe vera will deep clean the skin and the lemon will help reduce the scars and tan. Mix the ingredients well and use it to scrub both face and body.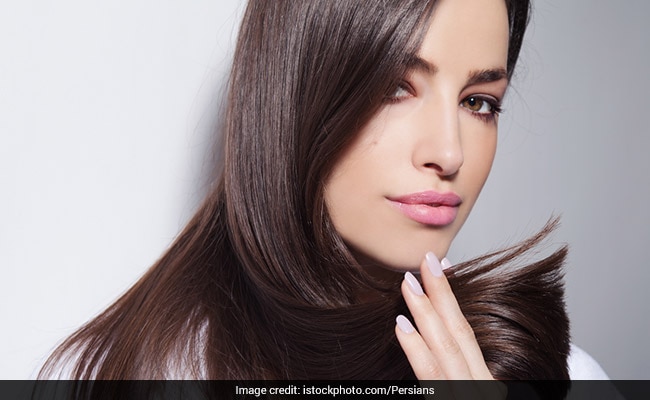 Aloe vera for hair
Aloe vera contains proteolytic enzymes that repair dead skin cells on the scalp. Moreover, it acts as a conditioner that leaves your hair all smooth and shiny. It promotes hair growth, prevents itching on the scalp, reduces dandruff, and conditions your hair. Aloe vera tends to have a chemical that's almost similar to that of keratin that helps rejuvenate hair, further preventing breakage. Know an amazing hair mask that will help keep your hair healthy.
How to use aloe vera for hair
Mix equal quantity of aloe vera gel and extra virgin coconut oil. Apply and leave it overnight and wash it off in the morning. This will give you smooth, strong and bouncy hair.