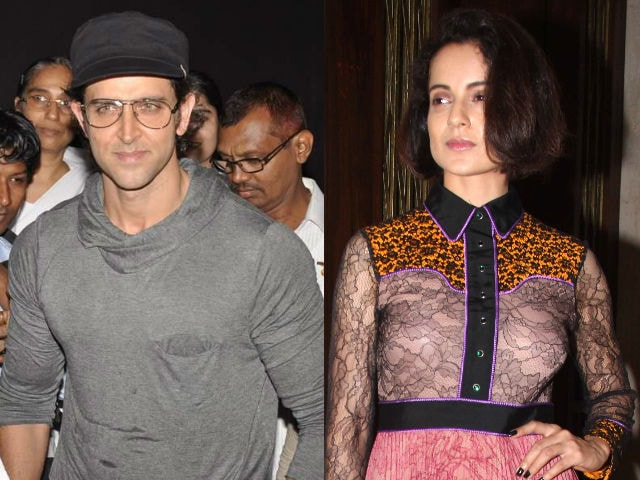 Highlights
Hrithik had no relationship with Kangana, lawyer has 'solid evidence'
Hrithik's lawyer says the fight is about lie vs truth
Kangana will give her statement on April 30
Mumbai:
The bitter public feud between actors Hrithik Roshan and Kangana Ranaut continues to make headlines and the Krrish actor's lawyers now claim they have evidence that he never dated Ms Ranaut.
"Let's not get confused in this war of words. We will prove that our client Hrithik Roshan has had no relationship with Kangana Ranaut. We have presented solid evidences of this nature to the investigating authorities," Mr Roshan's lawyers said in a statement. The actors met while making 2010 film Kites and reportedly dated on the sets of 2013's Krrish 3.
"They (Ms Ranaut's's team) should present any credible evidence if they have to those who are authorised to investigate this matter. We are not interested in playing the game of notices and counter notices, we are only pursuing this to bring out the correct facts and that will happen through bonafide investigation," Hrithik Roshan's lawyers said, claiming the case is "not about man vs woman, powerful vs weak, it's about lie vs truth."
What started as a complaint against an alleged imposter by Mr Roshan has turned into an ugly legal battle, with the two stars exchanging recriminations almost daily.
Kangana Ranaut's lawyer on Thursday said that his client has set April 30 as the
date to meet the police and give a statement
as a witness in the alleged imposter case, filed by Hrithik Roshan. She was previously accused by him of stalling the investigation.
Kangana Ranaut, 29, and Hrithik Roshan, 42,
have been at loggerheads
since the
Tanu Weds Manu
star appeared to refer to Mr Roshan as a 'silly ex' in an interview.
Hrithik Roshan sent Ms Ranaut a legal notice demanding she apologise in a press conference and clear the air about their alleged affair which he says never happened.
Kangana Ranaut has accused Mr Roshan of
'slut-shaming'
her by circulating private photos and emails.