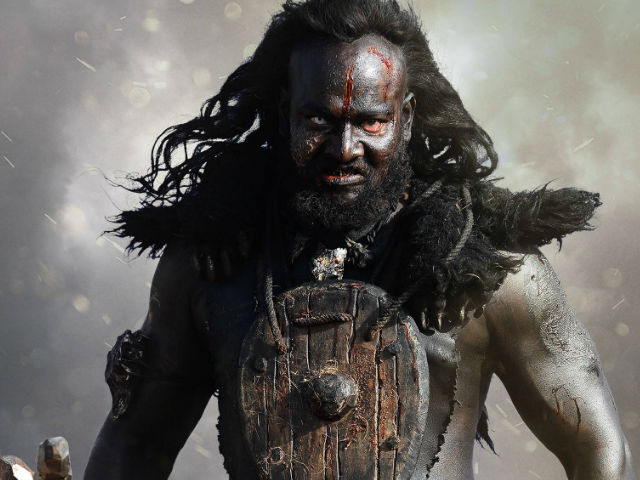 Chennai:
The man with six 100-crore films under his belt works his magic sitting in a minimally decorated 400 square feet study-room in Chennai. For someone who is celebrated as a new-age wordsmith, there is not a single bookshelf at sight. There is nothing about him or his office that suggests his association with two of the most anticipated and mammoth projects of 2016 -
Baahubali 2
and
Endhiran 2
. The amicability and warm smile catches you off-guard. The name is Madhan Karky; son of poet and lyricist Vairamuthu.
One of the youngest doctorates to emerge from the University of Queensland, Australia, Karky is several talents bundled into one - an expert in robotics, avid linguist, lyricist, dialogue writer and author. In an interview, he gives a glimpse into his intriguing world of numbers and words. (Also Read -
Baahubali's Secrets Revealed: The 'Baby' in the River Was a Bottle
)
Madhan Karky, as a youngster, used to hate lyrics in songs. If that's not anti-climactic enough, he was not interested in reading fiction either. Well, at least, that's what he says. "As a teenager, I was very passionate about computing and systems. I wanted to become an engineer, who actually made a difference. Then it was in 1992, that I heard this song
Chinna Chinna Aasai
written by my dad, who finally made me look at lyrics and music in a new light. Even then, I tried to understand lyrics as mathematics, in my own simple way. After all, maths was my first love!"
Engineering to baby-sitting
Madhan's craze for computing landed him a bachelor's degree in computer engineering at the College of Engineering, Guindy. He says he was pretty much engrossed in academics as an under-grad. "Life changed once I joined post-graduation studies in Australia. I was no longer the nerd I used to be. This was the time I used to try my hand at cooking, waitering, baby sitting, composing tunes and a whole lot of exciting things in my free time. What started as a fun-time slowly got me interested in composing my own jingles, for which I wrote my own lyrics. Over a couple of years, I realized that the lyrics part excited me more than the music. It was an exact reversal of my childhood sensibilities". Even more interestingly, Madhan admits that his stint at babysitting sowed the seeds for his linguistic explorations. "I tried teaching a couple of Australian kids Tamil by creating a fun language called Cliq with a few words. This paid off unexpectedly years later!" he pauses a bit, revels at the suspense and smiles.
Connecting with Rajamouli - on the sets of Eega
Madhan says
Baahubali
as an idea was sown back in early 2012 during the shoot of
Eega/Naan Ee
. "Rajamouli is someone who values and gives unbelievable attention to lyrics. On one such song recording, he mentioned that he liked the Tamil version of the songs better. He was particularly impressed with the lines
En Ithaya Kootile..Un Ithayam Korkka Vaa, Eeruyirai Saerka Vaa...Ondraagida Vaa
, and went on to write a follow-up scene where Samantha gets the idea of carving a heart within a heart in a pencil micro-art. After one such recording, he called me to his office, told me about his dream of filming a war-fantasy set thousand years before and asked me if I could write dialogues in chaste Tamil. I wrote a page of dialogues for a extempore scene, and both Rajamouli and his father were heavily impressed. We started the pre- production work of
Baahubali
, a few months after the release of
Eega
" (Also Read:
There Will be a Baahubali 3, Says SS Rajamouli
)
Baahubali - the perfectly planned bilingual
Rajamouli developed the script of
Baahubali
over 2 years, with the help of his Telugu writers and Madhan. "Yes, I was with him right from the conception. We developed the characters together. We have a 100 page character sketch for each of the characters in
Baahubali
. That's how I differentiate the tone of the characters. By now, I know how Bhallaladeva or Devasena would react to a conflict, and my dialogues would reflect their unique characteristics and crisis reactions. Even as Rajamouli narrates his requirement, he wouldn't give too much information. He lays down the crucial details, and gives the writers the freedom to develop and experiment. We worked scene by scene, developing the characters as we proceeded further.
Baahubali
, to my knowledge, was the most perfectly planned bilingual. Many of the dialogues in the two languages were completely different, to suit the sensibilities of the story. And more than half the scenes were first written in Tamil. The entire dialogues of the film ran to a little under 30 pages, with Prabhas mouthing 8 of those 30 pages. But, all the major actors attended a workshop on diction and pronunciation for ensuring authenticity, in addition to the regular rehearsals"
The making of Kilikili
Madhan says he coined the
Kilikili
language spoken by the Kalakeya tribe based on his experience of creating Cliq from scratch in Australia. "Rajamouli didn't want to categorize the Kalakeyas into any clan or ethnicity, but wanted to project them as barbaric brutes, who invoke endless fear. So we decided to make up our own language, giving more importance to mood based clicks and articulations. My primary aim was to translate the emotion of the word with phonetic sounds. So I came up with a little over 750 words using this template and then went on to coin 40 grammar rules for using the same. I used verbal clicks like 'tch' and 'tsk' as tense and plural markers and for forming the possessive. I also used phonetic reversals for the opposites to make my job easier (like
min
for denoting 'I' and
nim
for denoting 'you',
muwa
for 'love' and
muwa
for 'hate'). As I translated the dialogues from Tamil, if the word was in the dictionary, I would use it. If not, I would coin a new non-similar sounding word and add it to the bank. If I can't find a rule to use the words from the rule book, I will lay down a new grammatical rule. I was with the actors during the shoot for most of the scenes featuring Kilikili, helping them with the nuances. Quite an unforgettable experience, it turned out to be!"
Baahubali 2 to be more emotional
Regarding
Baahubali 2
, Madhan says that the film would be more grandiose, emotional and hard- hitting than the first part. "All my hard work will reflect more in the conclusion, which would be more of an engaging drama than a mere action-adventure. It is more dialogue oriented, with the first part serving as a build-up to reach this point. We have already shot footage for about an hour, and as of now, the first half of the script is locked. I am equally excited about it like the audience."